Delete Temporary Files Windows 10
How to delete temporary files in windows 10: Temporary files are basically the files stored by apps on your PC to carry your information. When it comes to Windows 10 there are many other types of temporary files in windows 10 like files left over after the OS is upgraded, logs upgraded, reporting of errors, files stored during Windows installation etc.,
Although the windows 10 temporary files do not cause any harm but can occupy a lot of space on the hard drive. It later stops you from even install the Windows 10 new version. Luckily, Windows 10 also provides a couple of methods to delete temporary files in windows 10 with the help of disk cleanup tool and Settings App.
Let us understand the ways of how to delete temporary files in Windows 10 and vacate the space.
Ways to Delete Temporary Files Windows 10 in Windows 10
1. Delete temporary files with the help of Settings
Windows 10 allows you to use Settings app to delete the temporary files automatically/manually or automatically starting with version 1803.
In order to delete temporary files in Windows 10 with the help of Settings here is what you need to do using Settings
Open –  Settings
Click – System.
Click – Storage.
Click  the link – Free up space now


Select list of files you wish to remove along with
Windows upgrade log files.
System created Windows Error Reporting files.
Windows Defender Antivirus.
Windows Update Cleanup.
Thumbnails.
Temporary files.
Recycle Bin.
Temporary Internet Files.
Delivery Optimization Files.
DirectX Shader Cache.
Previous Windows Installation(s).
Click on  the button – Remove files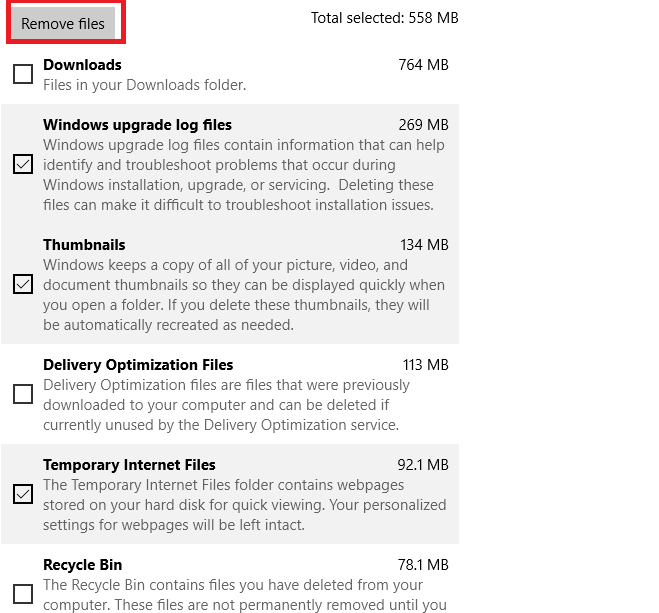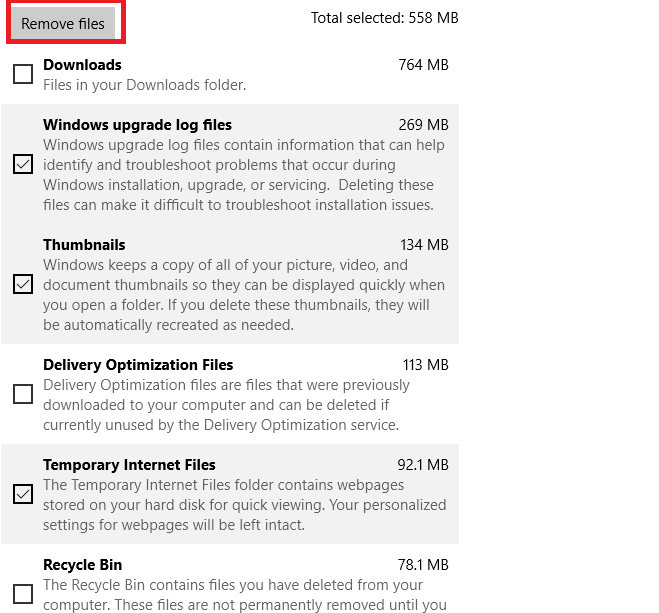 After you are done with the steps given above, the files you have selected will be deleted permanently from your PC and it will also free up the space.
2. Using Storage Sense
You can also use the option – "Storage sense" in order to vacate the space automatically by delete windows 10 temporary files as well as the content stored in recycle bin.
To delete temp files in windows 10 automatically that you don't need on your Windows 10 system with help of settings follow the steps given below
Open – Settings
Click – System
Click – Storage
Turn on the toggle switch that says – 'Storage Sense'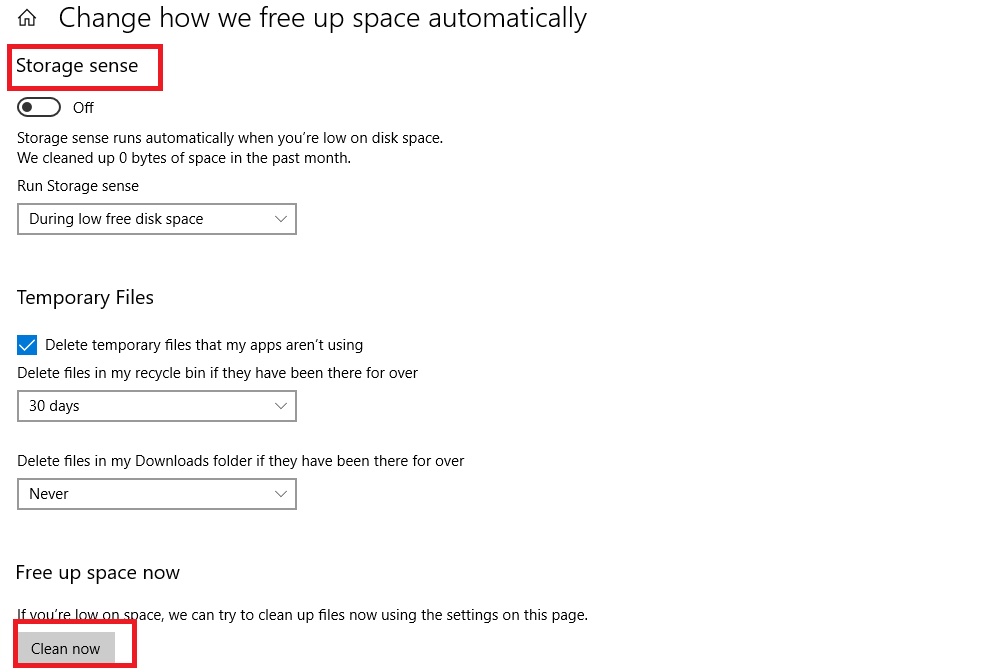 Once you complete the steps given above the temporary files stored on your system will be automatically deleted by Windows 10 and also the files that are present in recycle bin for past 30 days.
3. Delete temporary files using Disk Cleanup
In case you see a message on your system saying the device doesn't have sufficient space then you can utilize – Disk Cleanup tool to remove temporary files in windwos 10 and vacate the space on your PC.
Deleting windows 10 temporary files with Disk Cleanup from Windows 10
Open – File Explorer
Click – This PC.
Right-click on the drive having Windows 10 installation and then choose- Properties.
Click the button- Disk Cleanup
Click the button –Cleanup system files
Check the specific items you wish to remove
Click – OK.
Click – Delete Files to finish the process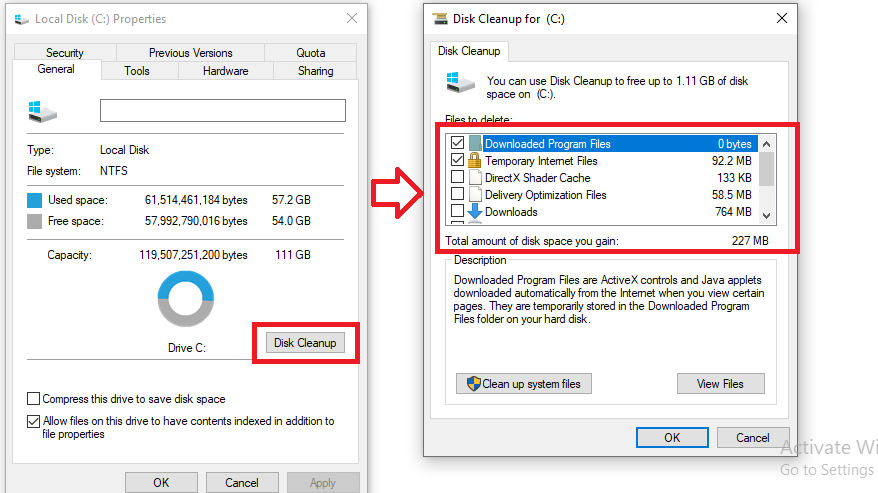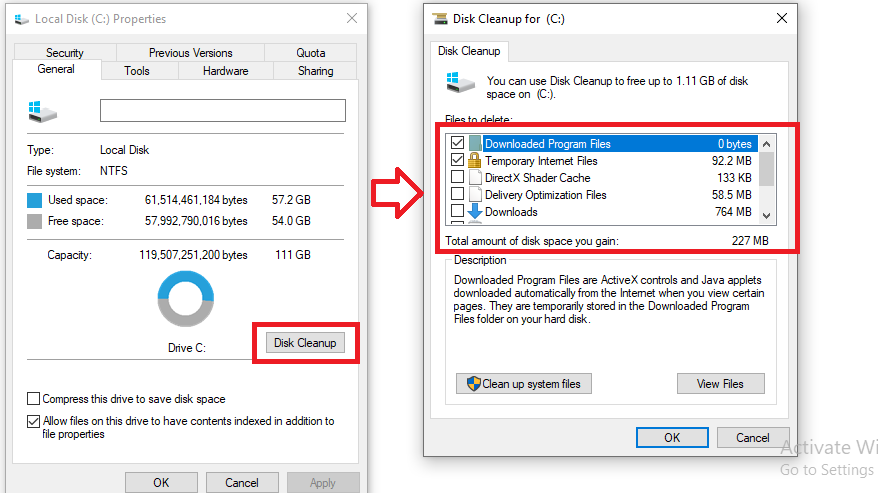 Apply one of the any methods mentioned above and delete your all temporary files in windows 10.
Follow Us On: