Edit video on windows 10: You have a computer installed with Windows 10 and you are wondering if it comes with any editor that allows you to edit your videos. Windows 10 does have a free video editor that allows you to work with your video using shortcuts. There are also other options that you can use to edit your videos on Windows 10.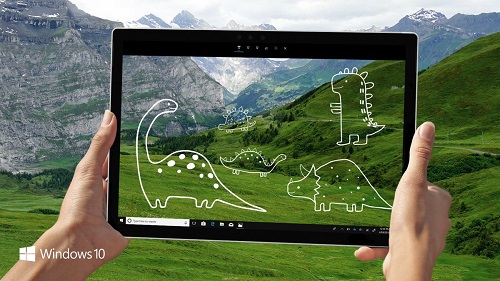 Ways to Edit Video on Windows 10
Edit video on Windows 10 using Free Built-in video editor
First of all, you must always make sure your Windows 10 is up to date with the latest patches. Usually, updates are installed automatically on Windows. When they are installed, your computer will restart. You can update your Windows by going to Windows Update Assistant.
If you are using an old version of Windows 10, you will be able to use the Movie Maker software to edit the video. Movie Maker is included in the Windows Essentials 2012 package. It supports basic functions like slow down/speed up a video and trimming a video. The Movie Maker software was retired and no longer gets updates from Microsoft. However, a new video editor is introduced into the Windows 10 soon.
The latest version of video editor comes with the Falls Creators Update and is built into the Photos app. When you open the Photos app, click on Video Projects and select the Add Photos and Video option. Next, you choose the videos you want to edit and click the Add button. In the film strip below, you can drag and drop the video clips to arrange them in the order you want. You can set how long a picture will display in the video by selecting it and clicking on Duration to enter the custom time.
You can also apply several types of special effects to your video by clicking on the Filters button. If you want to add text, you can click on the Text button and select the text style. The text you enter can be moved to any place on the video. You can also add 3D effects such as butterflies and fires in your clips by clicking on the 3D video button. If you want to add music, you can click the Music button and select the audio tracks to incorporate in your video.
It will automatically save your video as you edit it so you can resume the editing even if you quit the app without manually saving it. The Creations tab is where you can find all the videos you have recently worked on. When you are done editing the video, simply click the Share and Export button to share it online. You have the option to save the video on your computer and upload it to the video sharing platform of your choice.
How to edit video on Windows 10 Using a Third party video editor
The free video editor on Windows 10 does not support features like transitions, and video trimming. Microsoft did announce that they will add new features but it is not known when they will be added. If you want to access more features, you can install a third party video editor like Movavi Video Editor. With a third-party video editor, you can conveniently edit Quicktime video files such as MOV.
If you search Google, you will also come across online video editing apps that let you edit your videos for free. There are usually limitations like the size of the video you upload, number of times you can it per day, and watermark. When you finish editing, you may have the option of the video sent to your email or download it to your computer. Get more details at here.
Edit Video on Windows 10 on Video sharing platform
Many online video sharing platforms like YouTube and Vimeo have built-in editor software for uploaders to edit their videos. You should compress the video to MP4 first so that it is fast for you to upload it. When you are done editing, the video will be published directly on the video sharing platform.
Follow Us On: