How to Fix MBR Windows 10
What is MBR?
MBR refers to Master Boot Record which is an important aspect required whenever you boot your PC. It is created on your computer on the first partition while installing Windows. It is the first 512 bytes of your hard disk and also a boot sector before initiating the partition process. MBR holds a vital piece of information. It enables your PC to find and identify the location of the operating system for permitting Windows to boot. If there is any damage to MBR or if it is corrupt, then your computer fails to boot. In this guide, we explain what you need to do to fix MBR in Windows 10.
What Happens if MBR in Windows is Corrupt or Damaged?
MBR is a crucial part of booting your computer. If MBR is damaged then you will encounter a lot of errors while booting. Here are some of the most common issues faced.
Bootmgr is missing: Whenever MBR on your hard disk is corrupted, you will be displayed a message that "bootmgr is missing".
Error loading operating system: You may also face issues while loading the operating system whenever MBR is damaged.
Operating system not found: Many users complain that they are displayed this message while trying to boot their system. This hints that there may be a problem with the MBR.
Invalid partition table: this message is commonly displayed while you are booting your computer running Windows 10/8/1.7/7
Reboot and select proper boot device: This notification is displayed while booting the device hints that your MBR has gone corrupt.
You may be displayed several error messages whenever your MBR is corrupted or damaged. If you don't know how to fix these issues, then you can follow this step-to-step guide for the purpose.
Steps to Fix MBR in Windows 10
Method 1 – Using Windows Automatic Repair Feature
Whenever you boot your Windows 10 system for the first time, it can automatically detect if there is any problem. If there is any issue, then it will enter into the Automatic Repair Mode to fix MBR. You will be displayed a notification that your Windows did not start correctly. You will be provided with advanced options to troubleshoot and repair.
When you get this message, select Advanced options > Troubleshoot > Startup Repair.

The Windows 10 startup repair tool is automated and will do its job. However, it does take a lot of time in the process to fix MBR windows 10.
Method 2 – Using Command Prompt via Windows Automatic Repair
If the automatic repair process doesn't fix MBR issue, then you can turn to a more direct and quick approach for fixing the issue. All you need to do is use the Command Prompt option.
Whenever your system notifies you of any issue about MBR, you need to follow these simple steps: Advanced Options > Troubleshoot > Command Prompt.
For repairing the correct file, you need to use the bootrec.exe tool. This tool offers you plenty of commands that have been designed for removing the issues from the process.
Type exe/fixmbr on the Command Prompt screen and then press Enter.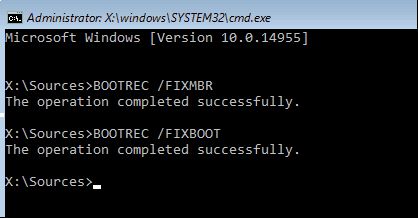 You need to then type exe/fixboot. You will be displayed a message that the operation has been completed successfully.
If you are shown exe/rebuildbcd instead, then it hints that an attempt is being made to rebuild your system boot configuration data.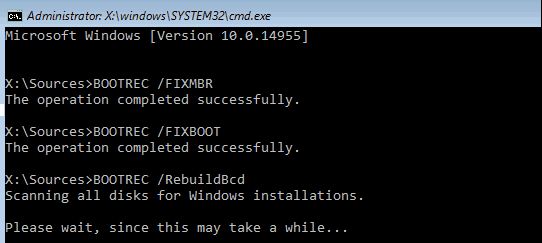 This process doesn't work in the first attempt. When this happens, then Microsoft suggests you to export the BCD store and completely rebuild it from scratch. Though it may sound to be a mammoth task, it takes only a while.
All you need to do is enter the following commands
bcdedit /export c:\bcdbackup
c:
cd boot
attrib bcd -s -h -r
ren c:\boot\bcd bcd.old
bootrec.exe /rebuildbcd
Method 3 – Using Boot the Computer from the Installation Media 
To fix MBR using  boot from installation media, you need to create an installation CD/DVD. Boot your Windows device from the installation media.
After booting your computer from the installation media, click on Next. Follow the instructions precisely.
Click on Repair your computer Click on continue.
Select Troubleshoot > Advanced options > Command Prompt.
Enter the following commands
bootrec/fixmbr
bootrec/fixboot
bootrec/scanos
bootrec/rebuildbcd
Do not forget to press Enter after entering each command.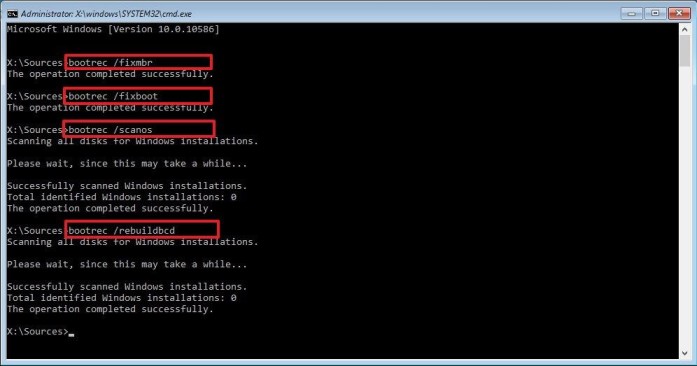 Once you have finished all the steps, remove the installation media. Modify the BIOS to boot the device in normal mode instead of CD/DVD. Now, restart your device.
Method 4 – Fix Master Boot Record (MBR) on EFI on Windows 10/8.1/8
Here we will consider another case of fixing MBR. Here you will learn how to fix MBR if the disk is GPT. Here is a step by step guide.
Step 1: Open command prompt window
You need to boot the device from the installation media. Then, click on Repair your computer. Once you have done that, you need to click Troubleshoot> Advanced options > Command Prompt.
Step 2: Type the following commands
diskpart
select disk 0
list vol
Step 3: Check the EFI partition and then assign a drive letter
Sel vol*
Assign letter = x : (x represents the drive letter)
exit
You need to remember that EFI partition must be done to FAT32.
Step 4: Repair MBR Windows 10/8.1/8 by entering the following commands
Cd/d x: \EFT\ Microsoft\ Boot\ (in place of x enter the drive letter)

Bootrec/fixboot

Ren BCD. backup

Bcdboot c:\ Windows/ l en-us / s x: / f ALL

 
After finishing all the steps, you need to remove your installation media. Exit the command prompt window. Reboot your computer to check if your device can boot in a normal way.
In Summary
This guide covers the basic aspects of MBR. It also highlights the basic problems that you may encounter while trying to fix a corrupted MBR. You can try any of the methods listed here to fix the issue. Let us know if the problem still persists by commenting your issue.
Follow Us On: