How to Backup Files Windows 10
How to Backup Files Windows 10: It is quite easy to backup files Windows 10 using its in-built feature called File History and it allows you to back up all your personal files.
File History basically takes the snapshots of all your files as you progress and saves it on external hard drive which is either connected to home network or USB. Over a period of time File History creates a library of previous versions of the documents which can be easily recovered if you want to. For example in case you saved a text you like from an article and accidentally deleted it long back and now you regret. Well, don't worry as you can enter File History and extract the original version of the text or file.
Of course Windows 10's amazing File History feature has now become an integral part of backup process but ideally this is just the only part. Basically, the file is present in 3 places that is working copy is on the internal hard drive, local windows 10 file backup which can be accessed directly and also a remote backup that protects your files offsite.
Backup files windows 10 using in-built option
Open – Settings App
Head to – Update & Security—Backup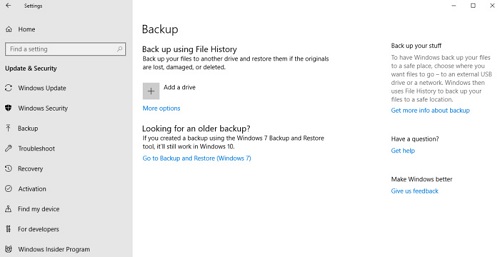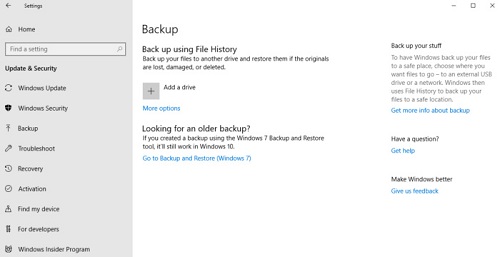 Once you reach there, link the external hard drive to your Windows and from Settings App click the sign "+" besides – Add to drive. Here you will notice a prompt asking you to select an external drive. You can select the one you wish to and you are done.
File History starts archiving all your data. Now, you can see a slider for OFF/ON underneath the new heading labelled as "Automatically back up my files"
By default, File History will start backing up the folders existing on you're the folder- User and will back up the files every hour provided backup drive is available and keep the previous copies of the files. You can change these settings too by clicking on – More options present below ON/OFF slider.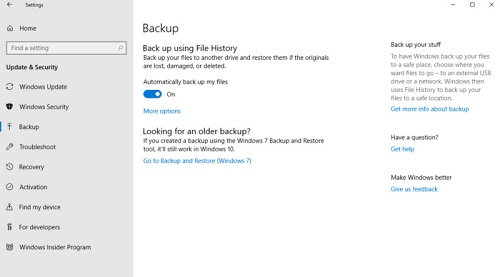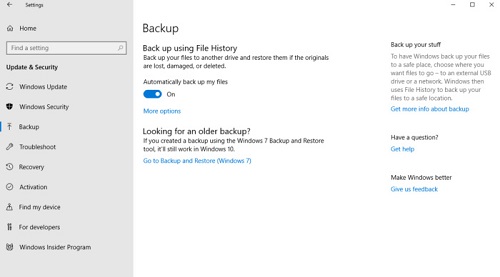 Next you will see a screen named as – Backup options. To the right on top you will find an option that is to start manual backup and underneath this option you can see drop down menus that allow you to adjust the schedule to run the backup and the choices offered range from every 10 minutes to just once a day. In case the backup drive you are using is not having more space then you can prevent the bug related to File History just by clicking the drop down menu present under – "Keep my backups" and simply select – "Until space is needed"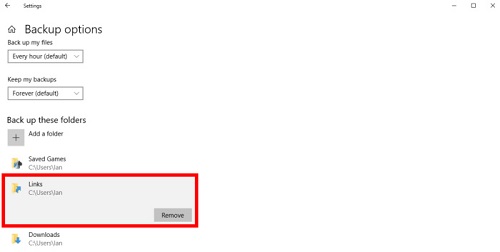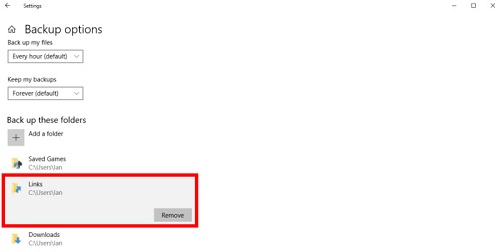 If you want to add a specific folder to the backup just click – "+" found below – "Back up these folders". In order to delete a specific folder just scroll down to locate it and then click on it to select it and click on – Remove
Windows 10 has plenty of features integrated File History comes handy as far as backup needs are concerned.
Related tutorial: How to backup data in windows 10
Backup files windows 10 using 3rd party software
You can get windows 10 file backup by using third party software, but for this you have to choose the best and legitimate application or software. Some of them can steal you data and can share with others. I have used several software and i personally like AOMEI Backupper to backup files windows 10. I have been using this software for 1 year and give 5 out of 5 rating.
Follow Us On: