How to Get Help with Notepad on Windows 10
How to Get Help with Notepad on Windows 10: The humble Notepad is one of the most indispensable applications in Windows 10. If you ever want to quickly scribble out something, for example, a phone number or an address, you can do that easily with a Notepad. It is a perfect tool for preparing short texts and documents and is just like taking notes on a small pocket notebook. Notepad is quite light on resources and can function smoothly anytime. However, there may be situations when you need help with Notepad in Windows 10.
If you've ever had any kind of questions regarding Notepad in Windows 10, then fret not as we cover all the basics and advanced features so you can start using Notepad like a pro!
How to Open Notepad in Windows 10
If you are using Windows 10 for the first time, you first need to know where you can find the Notepad.
Go to Windows search bar and search for "Notepad".
Double click on the icon. A Notepad appears on the screen.
If you are a regular user, you can pin Notepad on the taskbar by right-clicking on it and then choosing "Pin to Taskbar".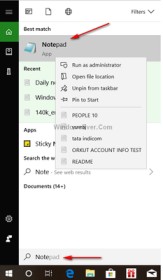 How to Get Help with Notepad on Windows 10
1. Does Notepad work on XML files?
Yes, Notepad works on XML files. You can create and edit XML files on the Notepad very easily. In Windows 10, the data of XML files are displayed in a tree structure. There are two panes; one for the structure and the other for values. You can also add elements, comments, text, and attributes to the XML document with the help of a tree structure.
2. Windows 10 Encoding and HTML Files with Notepad
With Notepad in Windows 10, you can perform encoding and HTML files. You can change the encoding of the file by making use of the "Save as" option to match a particular set. When you copy a text from a different language site and then paste it into Notepad, a message appears on the screen –
Now, you have to choose appropriate Encoding from the drop-down list. Generally, Unicode is the best option.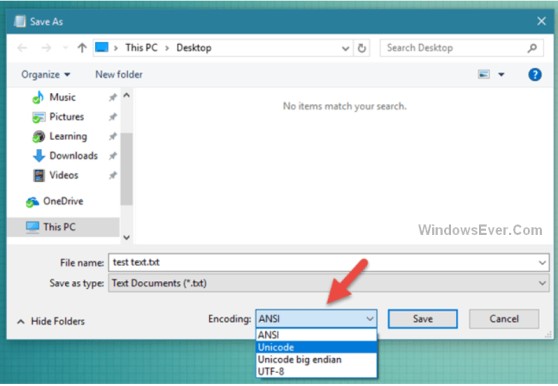 If you want to save HTML files, Word wrap option must be toggled on. Then, write the HTML code in Notepad. When you want to save the code, click on to "save as" option, select all the files, and .htm or .html extension.
3. The Text in the Document is Over the Right Margin, do I need to Scroll?
If you want to view the entire text without having to scroll to the left, follow these simple steps –
Just click on the Format menu
Activate Word Wrap.
4. In Notepad, how do I change Font Style and Font Size?
If you change the font style and size, it applies to the complete document.
Open Notepad.
Click Format menu.
Click Fonts.
Select the desired font style and size from the list of options.
5. Can the Text on Notepad Get Printed as an MS Word doc?
Yes, you can print the Notepad text just like MS Word. Follow these simple steps –
Open Notepad.
Click Edit option.
Click on the Print option.
Click on the General Tab to select the printer and the settings to print.
6. Can we Add a Header or Footer Before Printing?
Many users think that a header or footer cannot be added to a doc in Notepad before printing but it is not true. To add a header and footer, just follow these steps –
Open File menu.
Click on Page Setup.
Enter the text in the header/footer field. You can also create complex headers and footers; you can apply one of the character combinations given below
&d Insert the date
&t Insert the current time
&p Insert the page numbers
You can also add multiple character combinations in the header and footer fields. If you add space between the combinations, the header and footer appear nicely.
7. Change the Appearance of the Document for Printing
To change the look of the document before printing, follow the steps-
Click on the File menu.
Click Page Setup.
To change the paper size, click on the Size from the size list.
To change Paper Source, click on the Source list.
Switch to Portrait option to print vertically or click on Landscape to print it horizontally
Margins get adapted automatically. Click on OK.
8. How to Search for Words or Characters in Notepad on Windows 10?
As in Microsoft Word, you can very easily search or replace for words on Notepad.
Click on Edit > Find.
In the search box, enter the characters or words you are searching.
Go for search direction both up and down from current cursor position to the end of the document.
Click Find Next or you can press F3.
To replace words, you can –
In the search box, type the words or characters you want to replace.
In the replace field, type the new word or characters you want.
Click Find Next.
Then, click on Replace, or you can also click "Replace all".
9. How to Paste Time and Date in a Notepad Document
Click the Edit menu.
Then, click on Time/Date.
Conclusion
Windows Notepad comes with plenty of options for you to play around with. Apart from being a simple text editor, you can also do a lot more things as described above. Go ahead and try out these tips.
Follow Us On: