Product Review – Stellar Repair for Access
Microsoft Access is a popular relational database that has been around for more than 25 years now! As a result, many companies have been using it for both their critical and non-critical applications, and continue to do so because it is stable and serves its purpose.
That said, MS Access could become corrupted due to a host of reasons. When this happens, you need a way to safely extract all the data from it.
That's where Stellar Repair for Access comes in handy.
What is Stellar Repair for Access?
Stellar Repair for Access is a tool designed specifically to extract data from corrupted or damaged Access databases. The powerful Access Repair Software recommended by MVPs and trusted by thousands of experts around the world to recover data safely from a corrupted database.
Key Features
Some of the key features of this tool are:
Restores all objects, so there is 0% data loss due to corruption or damage
Restores deleted records and password-protected forms and modules
Repairs both .ACCDB and .MDB files
Recovers tables, queries, reports, forms, indexes, macros, modules, and even relational databases
Fixes database issues related to hardware failure, software inconsistencies, and conflicts.
Recovers the relationships created in the damaged Access file and restores them in the new file
Comes with an advanced scanning feature to recover the deleted tables
Recovers the deleted records from a database
Provides a preview of the available items, so you can choose the ones that need to be recovered
Recovers non-English data as well
How to Use it?
The good news with this tool is you can restore all your contents with just a three-step process. Here is a step-by-step guide on how you can use it.
Step 1: Install and open
First off, download the tool and double-click to run it. A wizard will automatically run the tool and will install it with the default components.
Once the tool is installed, double-click to open it. Navigate to the "Home" tab and click "Select Database". This will open a File Dialog box, where you can browse and navigate to the folder where the corrupted Access file is located.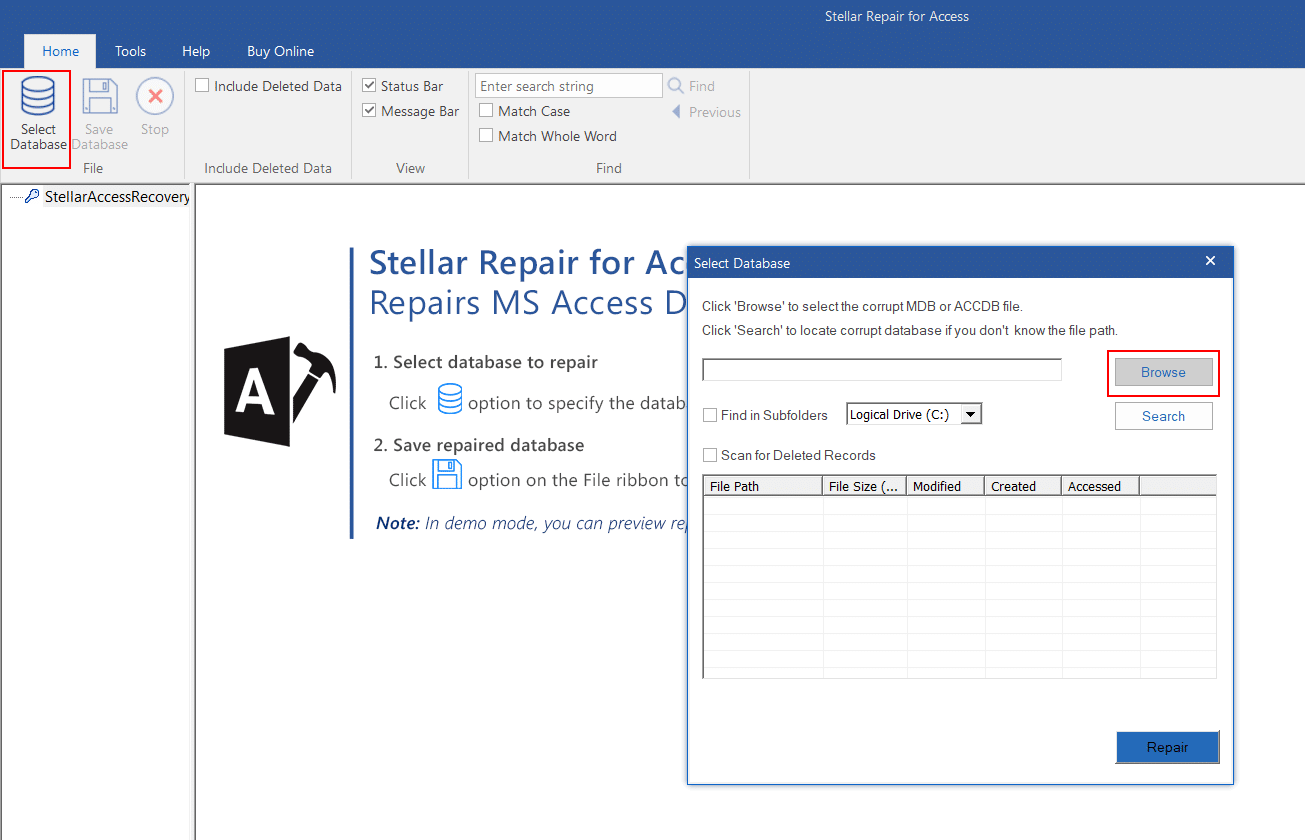 Step 2: Start the Recovery
Once you choose the file, the recovery process will run automatically. At the end of it, the tool will display all the items on the left-hand preview frame, so you can choose the ones that can be recovered.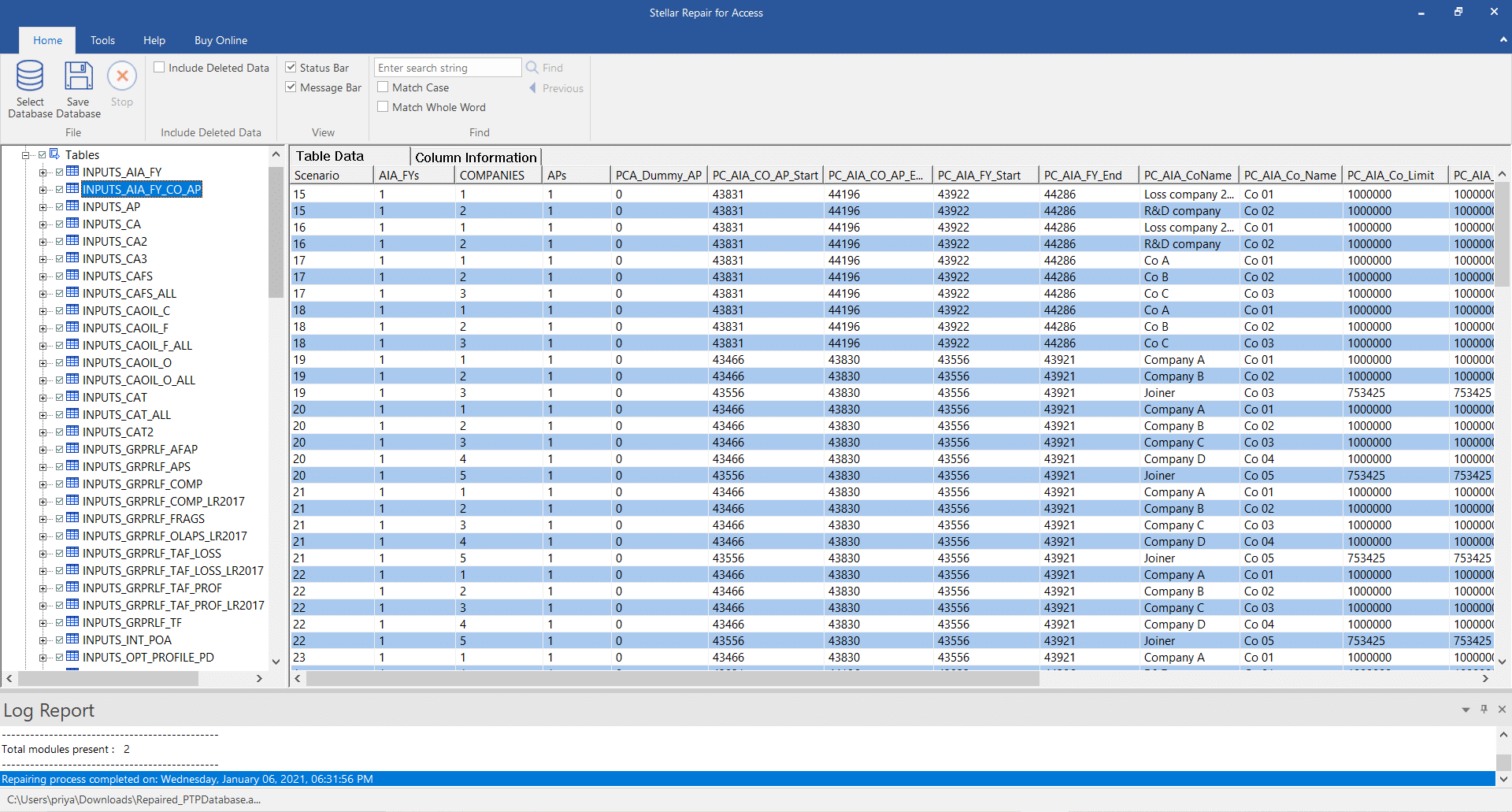 Step 3: Restores the Data
After you make your selection, the tool will restore all the selected objects in a new file, and you can open that file, to view and access the restored items.
As you can see, simplicity is the heart of this tool as it is designed for users of all technical levels. You don't really need to be experienced or tech-savvy to use this tool as it is highly intuitive and simple to use.
This brings up an interesting question of where you can use this tool.
Read more reviews: Mbox to PST convertor
Where Can You Use This Tool?
By now, you know that this tool can be used to recover the contents of a corrupted or damaged Access file and to restore this content to a new file. But beyond this generic use, here are some specific scenarios where Stellar Repair for Access can be invaluable.
Large-sized databases
Databases that go beyond a certain size are prone to corruption. Though the built-in Compact and Repair Database command can be used for reducing the size of the database and to address some of the issues that may arise due to it, this command is not effective in all situations.
First off, it can't repair severely corrupted databases, and will not recover all the data from them. A better option is Stellar Repair for Access as it is comprehensive and can fix database issues of any severity level.
Rectifying Inconsistencies
If you've been using the Access database, you'd know that the Jet Engine will throw an error when there are inconsistencies in table definitions or table data. Here too, you can use the Compact and Repair utility, but its effectiveness will be highly limited.
Stellar Repair for Access rectifies these inconsistencies in the database and restores the contents to their original state.
Unrecognized Database error
One of the most annoying aspects of using a tool is the cryptic error messages that are given when something goes wrong. These error messages give you no idea about the problem, so finding the root-cause can take a lot of time. One such error message is Microsoft Access is the "Unrecognized Database" error.

This error can occur because of inadequate permissions to use the database, incompatibilities between Access 2016 and Visual Studio 2012, use of multiple versions, and so much more.
The good news is that Stellar Repair for Access fixes the underlying problem and restores the contents safely, regardless of the cause of the error.
In all, the Stellar Repair for Access is a handy tool to have in your arsenal, especially if you have many critical applications running on Microsoft Access databases. It's simplicity and effectiveness make it one of the best choices in the market today for restoring data from corrupted Access databases.
Follow Us On: