Running Windows Network Diagnostics
Running Windows Network Diagnostics: Microsoft makes changes to its network interfaces often so that its users get better experience. In windows 7 Microsoft has embedded NDF (network diagnostic framework). You will find notification area that alerts in case any issue is identified. In control panel there is a troubleshooting section that traces the network.
Running Windows Network Diagnostics
Troubleshoot windows 10 by Running windows network diagnostics
Sometimes Windows fails to detect a particular issue automatically. In such cases you need to go to wizard running windows network diagnostics for general troubleshooting.
Right click on network icon found in notification area and then select – Troubleshoot problems.
Click the – Diagnose connection problems in your internet explorer which appears because of internet connection problems.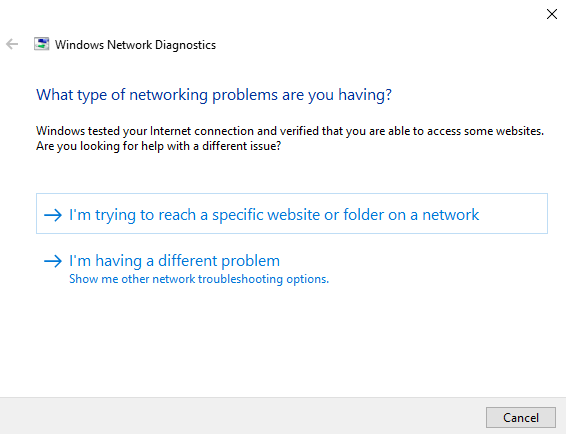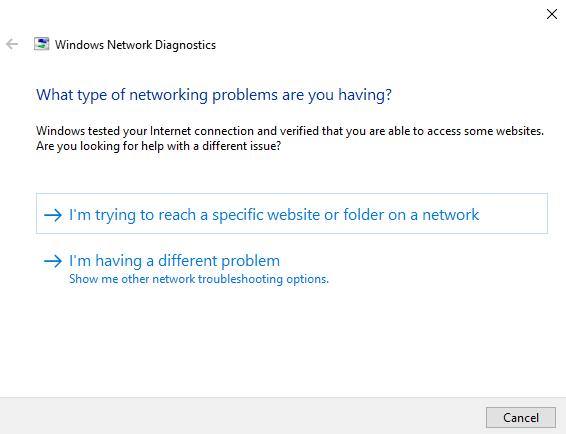 The Network diagnostic Wizard in Windows will begin by running a few tests to check if the issue can be identified. It checks factors like name resolution, web connectivity, remote host, gateway configuration and network adapter.
Either the wizard running windows network diagnostics will fix the issue automatically or will give you suggestions.
In case if the network diagnostic wizard fails to detect any particular issue, it will display the message as it wasn't successful in addressing the problem.
Other helpful tutorial: How to setup VPN Windows 10?
You should basically click on the link – View detailed information to get the information and also get ETL (event tracing log) file that you can handover to the administrator to continue detailed troubleshooting.
Run windows network diagnostic to fix the connection issues
In order to run Network diagnostic network to fix the connection issues you can follow the simple steps as stated below
Click on – Start button
In search box type- Fix network
It will display a couple of options you need to click on the option that says – Network troubleshooter.
Then the troubleshooting window will be displayed here you need to click on the option – Advanced and run program as an administrator. You can also check the box that says – apply repairs automatically.
Choose the connection type you wish to diagnose for process of troubleshooting and then click – Next
Windows will start searching for the issues related to network connectivity
The network diagnostic feature is quite useful in cases where there are common network issues for example DNS or Proxy troubleshoot and there are better chances of getting a perfect solution. In case the tool doesn't succeed in finding a reliable solution for the issue you can contact online support service offered by Microsoft to get the issue resolved or you can try to utilize the tool system restore the PC to its old settings when the problem wasn't existing or you can also let your hardware guy check your system for network problems.
You can choose to try Network diagnostic tool but if that doesn't solve the purpose you need to look for better options like getting in touch with your hardware guy or Microsoft help centre.
The problem can be quite frustrating as network issues can halt your work in between. If you are not aware of technical functionalities ensure that you consult someone who is well versed with hardware tasks so that you can get solution for the problem.
Follow Us On: