Sync Folder With Google Drive
How to sync folder with google drive: Syncing your personal computer with Google Drive offers easy access to files anytime and anywhere. Whenever your device is connected to the Internet, Google Drive syncs by default. However, there are some steps that you must follow to resolve sync-related issues. In this handy Windows 10 guide, we will tell you how you can sync folder with Google Drive with easy steps.
Google has been striving hard to ensure backup of vital data for everyone. Backup and Sync is an effective and quick tool that will help you store all your important documents on cloud. Before proceeding with the steps, it is essential to understand what Backup and Sync tool actually is.
Google Drive Backup and Sync Tool
Backup and Sync is a tool that helps you sync all your images, videos, files and a lot more from a single app. Here you get to control which folders are synced to your device. Earlier you had to use Google Drive app and Google Photos Uploader to keep your files in sync. However, the developers have combined both these apps into this one single handy app called Backup and Sync which takes care of everything.
You can also specify which images need to be backed up from your photo library. Google Drive is an integral part of the tool. This new tool helps you sync your computer with Google Drive storage. You can choose the entire drive or just choose specific folders or files. Google Doc files cannot be synced as these are available online and cannot be downloaded for accessing offline. However, you can place icons in the Google Drive folder so that you can access them as normal documents whenever you want.
If you want to sync a particular folder from your Windows device to Google Drive, then you can do so by following some simple steps as described below.
How to Sync Folder with Google Drive
Step 1: Download the tool
The first and foremost thing you must do is download the Backup and Sync tool. You need to make the right selection while downloading the software of your device. There are different versions for Windows and Mac devices. If you have Google Drive already installed on your device, then you do not have to worry as the tool will replace it automatically. So no installation would be required.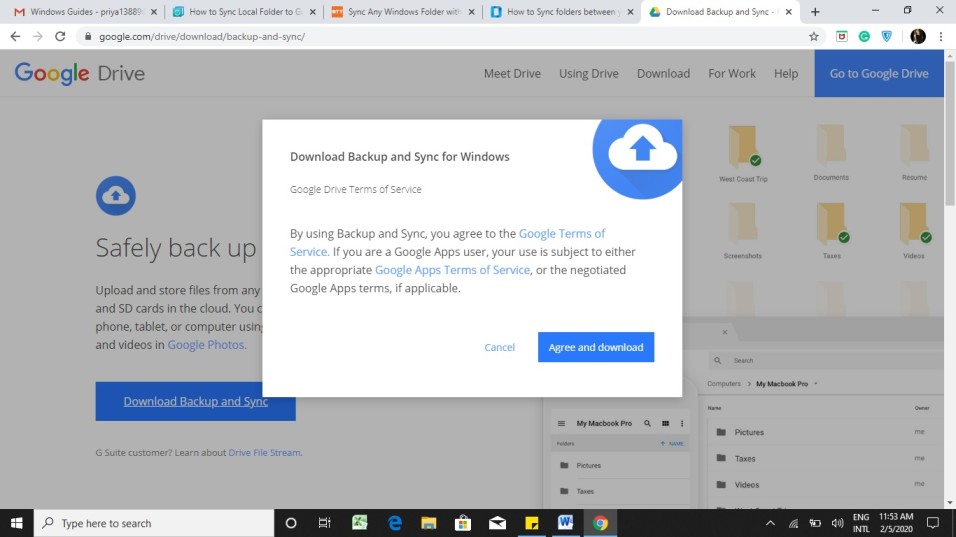 The download will complete in a couple of minutes. You need to then launch the installer once the download is complete. If you are using Chrome, then you need to click on the downloaded file that you can find at the bottom of the page. This will initiate the process. If you had Google Drive installed on your device previously, then Backup and Sync will log you into your Google Account automatically. A quick splash screen will make you aware of what the tool is all about. You can click on 'Got it' after learning all the basics.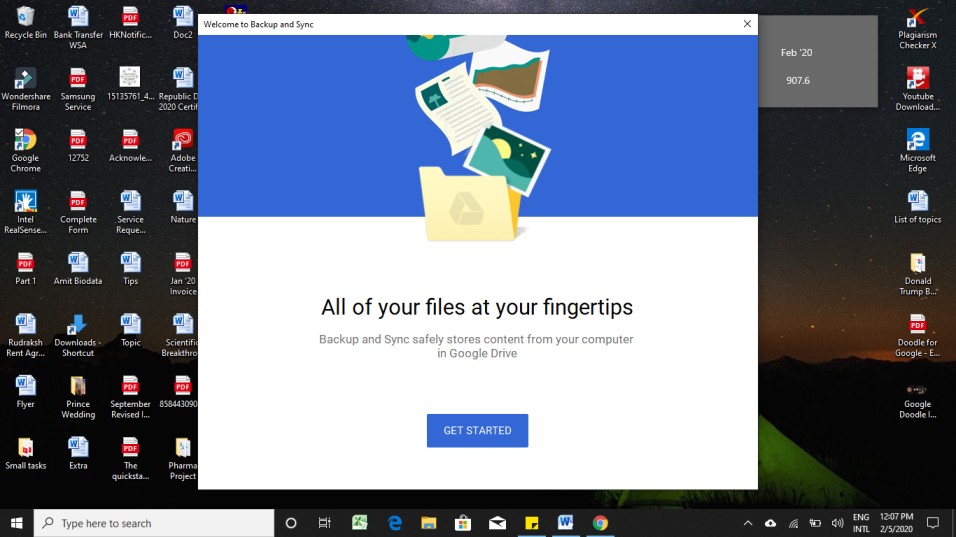 Step 2: Select the folders to sync
The Backup and Sync tool has been broadly categorized into two sections: My Computer and Google Drive.
Google Drive executes the same task as the original app. You can select the folders that you intend to sync to the cloud storage. They will appear in the Google Drive folder present on your PC. Any file placed in the folder will be synced to Google Drive.
My Computer permits you to sync files between your PC and Drive without placing them in any dedicated folder. You just need to select the folders or files from your computer that you intend to sync. They will sync to cloud storage. However, they will appear in a separate section.
Here are some specific options offered on the menu.
Sync My Drive to this Computer: This option can be used to activating or deactivating the sync feature.
Sync Everything in my Drive: Syncs all the contents in Google Drive to your PC.
Sync only these folders: Permits you to specify the folders that you intend to sync from Drive to your device.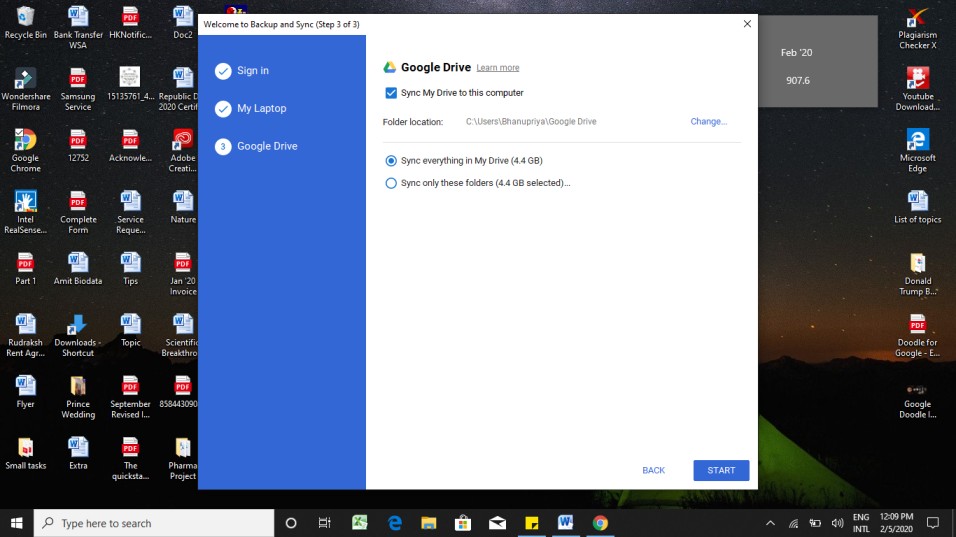 Step 3: Select the folders on your device to sync
You can access the My Computer section to choose the folders on your personal computer to sync to the drive. A couple of options are presented to the users: Pictures, Documents, and Desktop. You can simply select the boxes to take a backup of everything that you intend to. If you want to be specific, then you can select the folder by clicking on the Choose Folder option and select the files you intend to back up.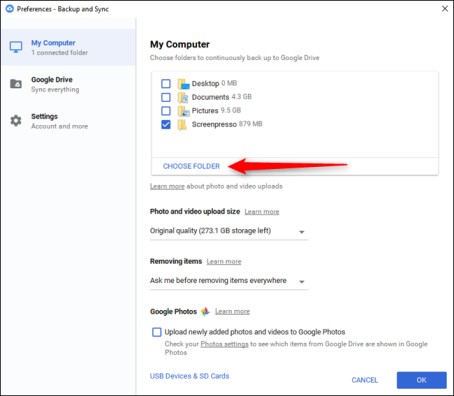 Note: Files being synced from outside the folder will not be shown in Drive. To access all those files, you will have to click on My Computer menu from Google Drive.
Related Post: How to backup windows 10
Step 4: Update the settings
You can clearly specify the manner in which you want to take a backup of the images such as High Quality or Original Quality while checking the folder options presented in the My Computer section. The former option wouldn't consume any space in your drive whereas the latter one will shrink the size of the images without impacting the quality using intelligent compression algorithms.
You can also specify if you would like to have control over the delete options such as Ask Me Before Removing Items Everywhere, Don't Remove Items Everywhere and Remove Items Everywhere. There is also a default option available.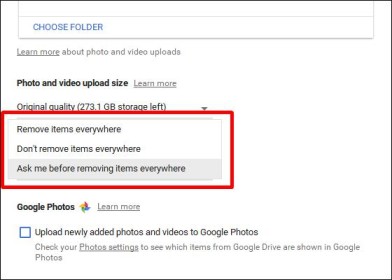 You can also select the box in Google Photos section that lets you scan your computer for any new images and upload them automatically to Drive. There is also an option at the bottom which permits you to upload files automatically from your USB drive or digital camera.
Follow Us On: