How to Sync Folder With OneDrive
How to sync folder with OneDrive: If you use a laptop or a personal computer along with an Xbox One console, Windows 10 or a Microsoft Surface tablet, then you must have already heard about OneDrive. The same holds true if you have been using Office 365 or an Android phone. If you are wondering what OneDrive actually is and what it does, then you landed on the right page. Here is everything you need to know about it and how to sync folder with OneDrive.
What is OneDrive?
OneDrive is a cloud storage service from Microsoft. It hosts all your files on the cloud so you can access them anytime anywhere. All the owners of a Microsoft account can use this storage service for free. It provides users a simple way to sync, store and share different kinds of files with other people over the web.
Xbox One, Windows 8.1 and Windows 10 also utilize OneDrive for synchronizing app settings, themes, visual customizations, passwords, and system settings. You can access the files stored on OneDrive from your web browser. You can also access it from your operating system if your device is running on Windows.
Benefits of Using OneDrive
There are a plethora of reasons as to why you would want to rely on OneDrive. It offers easy access to cloud storage from any device. It makes it quite convenient to share stuff with others. It is also an excellent online backup solution. There are many more benefits offered by OneDrive to users –
OneDrive is free to use and it can take a backup of your files. It is a great platform to start with if you intend to store a few files on the cloud. Windows 10 configures OneDrive as the default place for saving your files. You can take backup copies and save them on the cloud if you configure the settings accordingly. In case your SSD or hard drive fails, you will have a back of files readily available on OneDrive.
OneDrive is readily available on all devices such as smartphones, personal computers, and tablets. It is omnipresent on all Windows 10 platforms.
OneDrive can be used on major computing platforms such as iOS, Android, Windows, and macOS.
You can share files with anybody you want with OneDrive.
OneDrive can sync all your settings on different devices powered by Windows. If you are using the Xbox One gaming console and also Windows 10, then you can utilize the same Microsoft account and take a backup of all the files that you need.
OneDrive makes an excellent all-purpose backup solution and it is also affordable.
How to Sync Folder With OneDrive
The OneDrive application comes pre-installed on any Windows 10 device. If you are using Windows 7, then you will have to download the app. You can follow the simple steps below to sync any local folder with OneDrive. These steps to sync folder to OneDrive are for Windows 10 platform.
Open OneDrive by using the Search button from the taskbar. Click on the relevant result to open the app.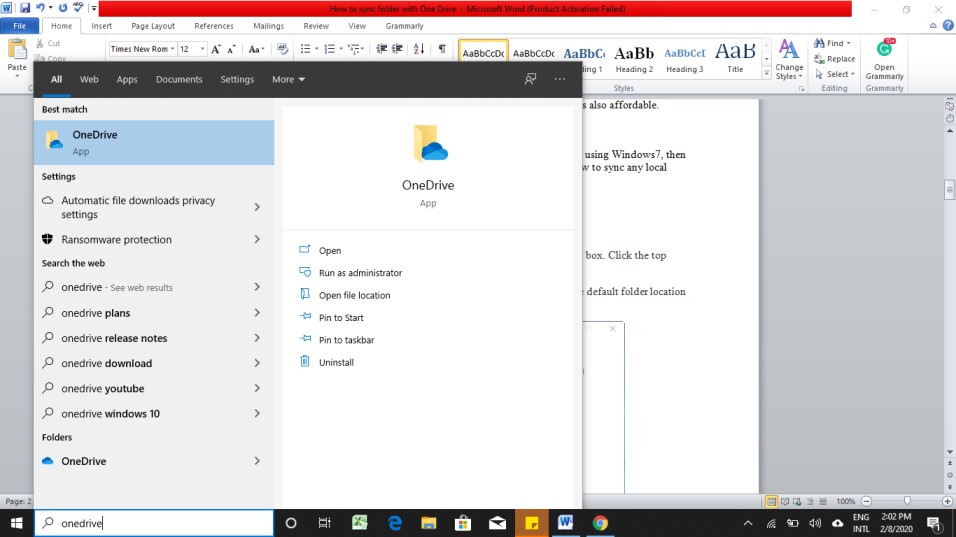 Sign in to your Microsoft account.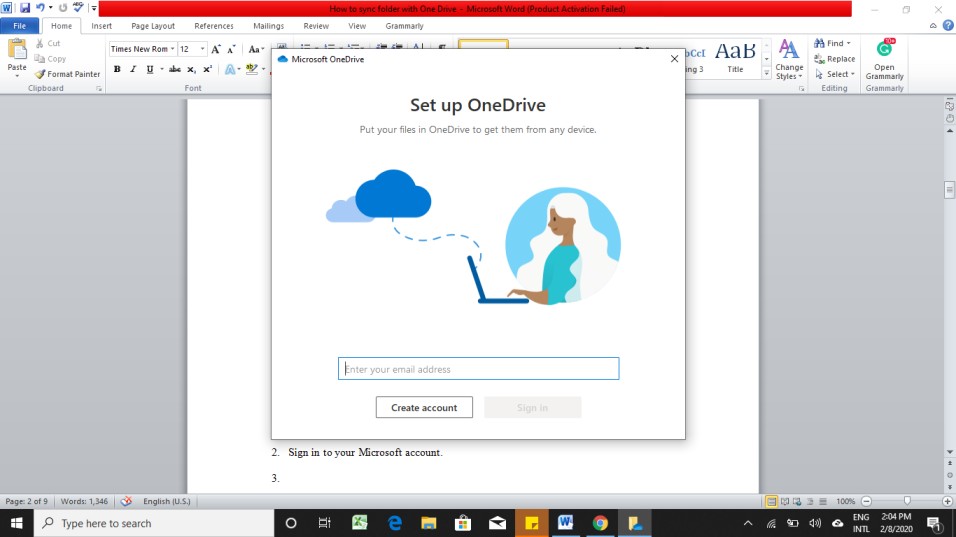 Once you access your OneDrive folder, you can choose the default location to save your OneDrive files. You can change the location anytime by modifying the settings.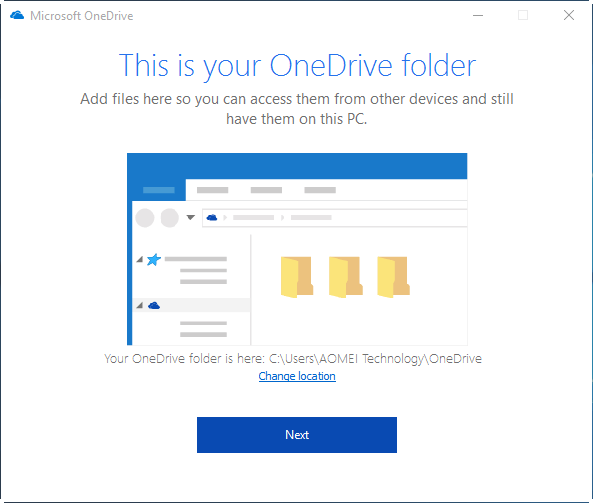 Access your OneDrive folder. Drag and drop the files you intend to sync to your OneDrive folder from your device. The files will be synced automatically. After syncing, the files are available on both OneDrive and on your personal computer.
Related post: How to sync folder with Google drive
Choose which OneDrive Folders to Sync to Your Computer
If you are not interested in syncing all the folders present on your personal computer to OneDrive, then you can clearly specify the folders or the files that you would like to sync. The steps to be followed are quite different for Mac OS and for Windows.
If you are using a Windows device, then you will have to follow these steps outlined below:
Choose the OneDrive cloud icon from the taskbar notification area. If the icon is hidden, then you will have to select Show hidden icons option to open OneDrive.
You need to then click on More>Settings.
Click on the Account tab, and then click on Choose Folders.
You can uncheck any folders you do not intend to sync from your computer and then click on OK when Sync your OneDrive files to this PC dialog box is displayed on the screen. If you uncheck the folders, then it will be removed from your computer. However, its content would still be available.

Conclusion
Syncing folders from your device to OneDrive is quite a simple task. There are numerous advantages of using the tool as it can help you share files conveniently with others online. You can save and take a backup of important files so that you can retrieve them whenever you need them.
Follow Us On: