Change Home Page on Internet Explorer
How to change home page on Internet Explorer: This article will help you learn how to change home page on Internet Explorer browser so that you can set it to open as your homepage as and when you open the browser.
Here in this article is it recommended to use bookmark manager so that you can manage and set your favorite links easily.
Ways to Change Home page on Internet Explorer
1. How to change home page on Internet Explorer using Browser Settings
 1. Icon present in Upper Right
Open the browser – Internet Explorer browser and then click the icon that appears like a gear. You can find the icon in the corner towards upper right of your browser window, below close window button.
2. Choose – "Internet options" from Settings Menu
After clicking the gears icon, you will see a drop down menu. Choose the menu item that says – Internet options.
It is basically the second one right from the bottom. It will expand the internet options menu for your Internet Explorer.
3. Below Startup Section, select – Start with Home Page Option
In Internet Options window, you will find some options for the home page & startup.
Below – Startup, choose the option – "Start with home page". It will update your Internet Explorer to open it as a home page each time opens your internet explorer.
4. Type in Home Page
Below the section – "Home page" Internet Options window, you can see a text box wherein you will be able to enter and manage URLs and web addresses.
Here type address of your homepage (http://go.microsoft.com). Now this becomes your homepage that you wish to view whenever you open Internet Explorer.
5. Click OK
Click – "OK" to simply close Internet Options menu and then return to Internet Explorer web browser.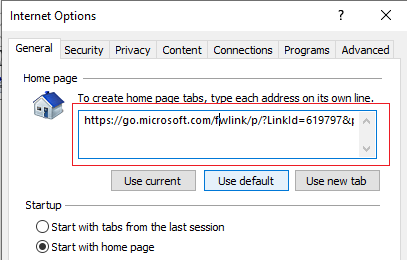 6. Close your Internet Explorer
Click on close button to close the Internet Explorer browser. It will close all other tabs open so ensure that you are prepared to close the browser.
7. Open Internet explorer and check if your home page is updated in Internet Explorer
Open the Internet Explorer and here you will now see the homepage being set before to be viewed as your internet explorer home page.
In case you have Home page Ninja to manage the bookmarks, then the you may be prompted to login and this entirely depends on the privacy settings.
Related Post: How to change homepage on Chrome
2. Change home page on Internet Explorer using Registry
In case you are not able to change the Internet Explorer home page in browser directly, then you can also do it through Windows Window Registry as well.
Here is how you can use Windows registry to do it
To open run box on your system press- Windows+R
Type – regedit and just press enter
Confirm UAC prompt in case it appears.
To the left, utilize the folder structure and move to the key mentioned below: HKEY_CURRENT_USER\Software\Microsoft\Internet Explorer\Main
Search for – Start Page and double click on entry
Change the value data with new URL.
The methods mentioned above certainly help you to change internet explorer home page according to your preferences. So, if you are using a specific site everyday and do not want to type URL, set it to your default home page on IE.
Follow Us On: