How to Change Name in Gmail
How to change name in Gmail: When you send an email to someone, the first thing that pops in front of the receiver notices is your Gmail or Google username. When your name in Gmail is displayed, people who receiver your email get to know your identify and based on the Gmail name they can choose to either open the email or ignore it.
The receiver can see your name whether or not you have your full name included in email address. Basically it helps the receiver to open email or ignore it when your name is not in their email list.
For any reason if you wish to change name in Gmail you can certainly do it. Well, remember when you plan to change name in Gmail, it is not the same thing as changing the email address.
Yes, we mean to say that to change email address you always need to sign up for a new account So, changing your name in Gmail is far easy than changing your email. If you have been using Gmail for a while now you must be aware of the settings in Gmail and with the help of settings, changing your username can be simply a one minute process
As a default setting, Gmail utilizes your name connected to your Google account for sending email. Well, that doesn't means you can't change the settings to alter the name with the same account Just like Google account, wherein you are asked to type your first name and last name, in case of Gmail you can include any name that has numbers, symbols and letters.
If you are into business the above option helps you to make use of your business name in the section -Reply-to field in place of your name
4 Ways to Change Name in Gmail
1. Change name in Gmail Using browser
Visit – mail.google.com and singin
You can see the gear icon on the top right area on the screen, just click that icon and then click – Settings
Next, you need to click gear icon located at top right
Switch over to the following tab- Accounts/Accounts and Import
&quotAccounts and Import section can be named as -&quotAccounts and in the area – Send Mail As, click on –edit info (you can find it on right hand side). It will display a new window
To expand the window, click and quotedit info. Devon

Type in the name (in given blank box) that you prefer to be your username (it will move the selection dot towards the new name you have chosen).
In this window you can easily establish – reply-to address as well
Click – Save Changes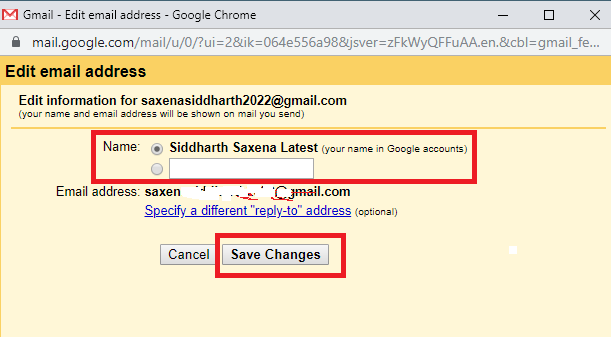 Using the same pop window you will be able to choose another – "reply-to" address too. It means the replies that you receive will be sorted out automatically to the mentioned – reply-to address, instead of the address that you use for sending emails.
While you are on the same page, you can return to the settings available for changing the signatures to display the new name you have opted for if it is not the same.
It can be found in the tab for general settings exactly at the bottom of the screen
Related Post: How to change Gmail password
2. Change name in Gmail App on Android
Open Gamil App in your Android phone
Click the 3 lines top left of your screen
Scroll down and click on Settings
Select the account you want to change name
Click on Manage your Google Account
Click on Personal info
Click the option Name
Now enter your First and Last name
Click Save
3. How to change name in Gmail on Mac
If you are using Mac- just open – Gmail app and then head to Mail—Preferences seen in Menu bar.
Reach to the tab –Accounts and choose the email account that you like to edit.
Double click under the option "Full Name"
Enter the Name you want
Click OK
4. Change your name in Gmail Using Google+
If you are having Google+ account, then whatever name you have used there will be automatically overwrite the name that you have set up in. So sign in to your Google+ profile and then make necessary modifications to the name in case it is not correct.
You must be signed in to your Gmail account through Gmail.com and now you need to sign in to the account.
After you log into your account browse https://aboutme.google.com/u/0/
Here you can get to view your Google+ profile
Now towards your right click the Pencil icon.
This will enable you to modify your name in case it wasn't shown correctly or there was a spelling mistake in the name.
Follow Us On: