Chrome Bookmarks Location
Chrome Bookmarks Location: Google Chrome is one of the popular browsers that helps you modify a lot of features as well as install extensions that are helpful. Well, finding chrome bookmarks location may not be a user-friendly task. There are situations when you want your bookmarks to be saved properly like while you want to reset your OS, want to back up the bookmarks, delete a corrupt file etc. You may also want to switch to a new browser other than Chrome and want all saved browser to be displayed in the new browser that you will be using henceforth.
Irrespective of the reason the first thing that you need is to locate the bookmark files before you could delete, modify them, you need to exit chrome. Else chrome may identify the changes in files and restore them automatically. Do not worry as you can easily locate the bookmark files on Google chrome irrespective of what operating system you are using just by carefully following the simple steps mentioned below
Finding the Chrome Bookmarks Location
Google Chrome saves the bookmark & bookmark back up file in a specific long path in Windows. The file location is the user directory path given below
"AppData\Local\Google\Chrome\User Data\Default"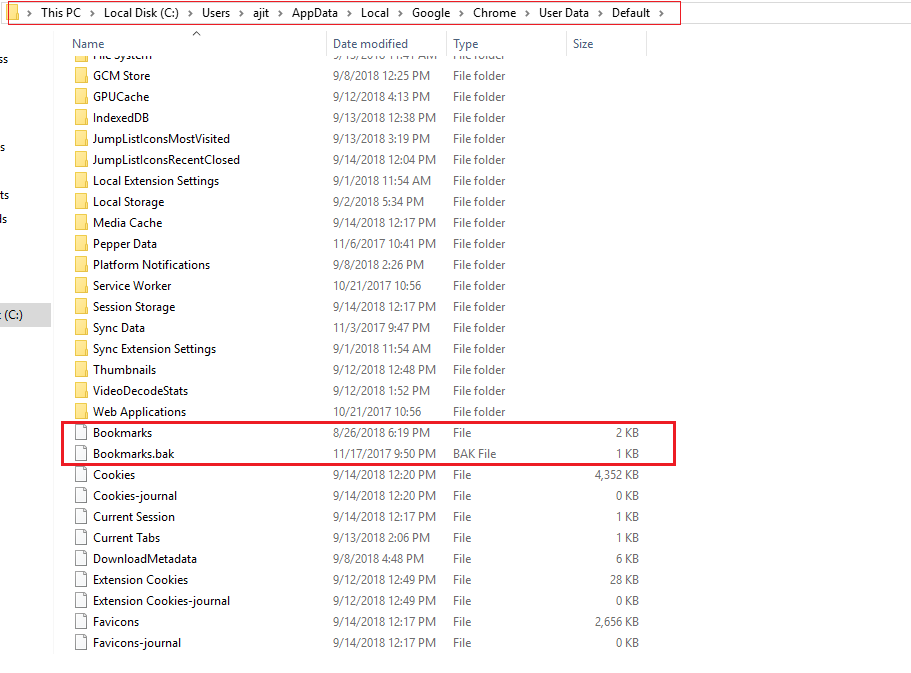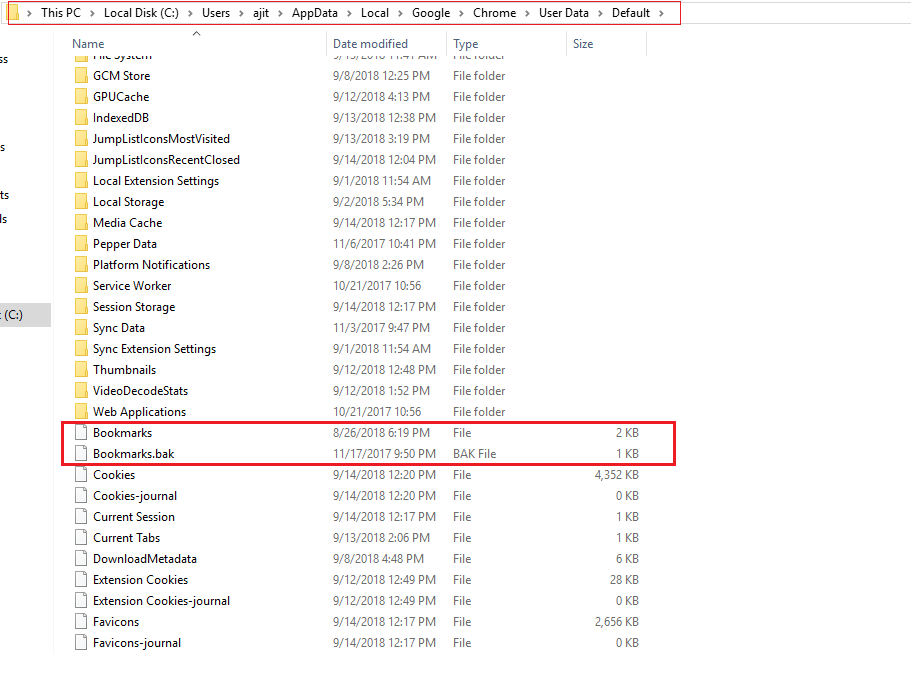 In case you want to delete/modify the bookmark file then you need to exit chrome. You can delete/modify the bookmarks as well as Bookmark.bak files easily.
You can find these find on Windows explorer on your Windows 7 or 8.
View chrome bookmark file
You can view your bookmark file on Chrome by opening the folder where the bookmark file is saved. You can go through the list of file names and trace the file that is named as Bookmarks. You will also see another file with the name Bookmarks.bak which holds the backup of the bookmark file that you use regularly.
In case you want to see what the Bookmarks file contains then just start notepad and then press- Ctrl+O to view the open window. Now click on text documents and it will display the files in notepad in file list. Double click the bookmark file you find while searching the list to view the contents of the file.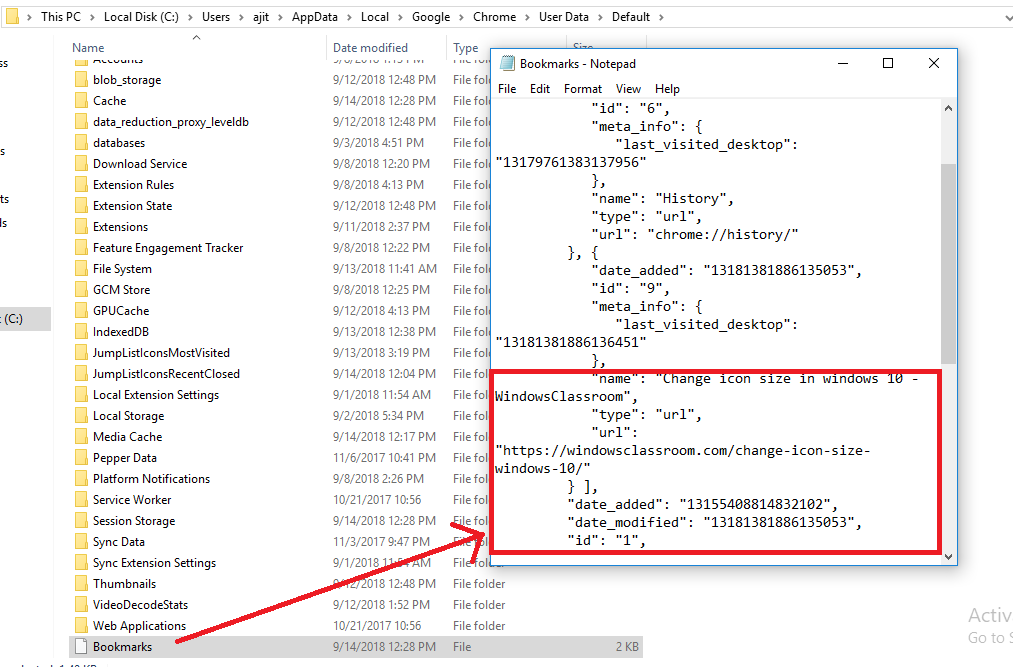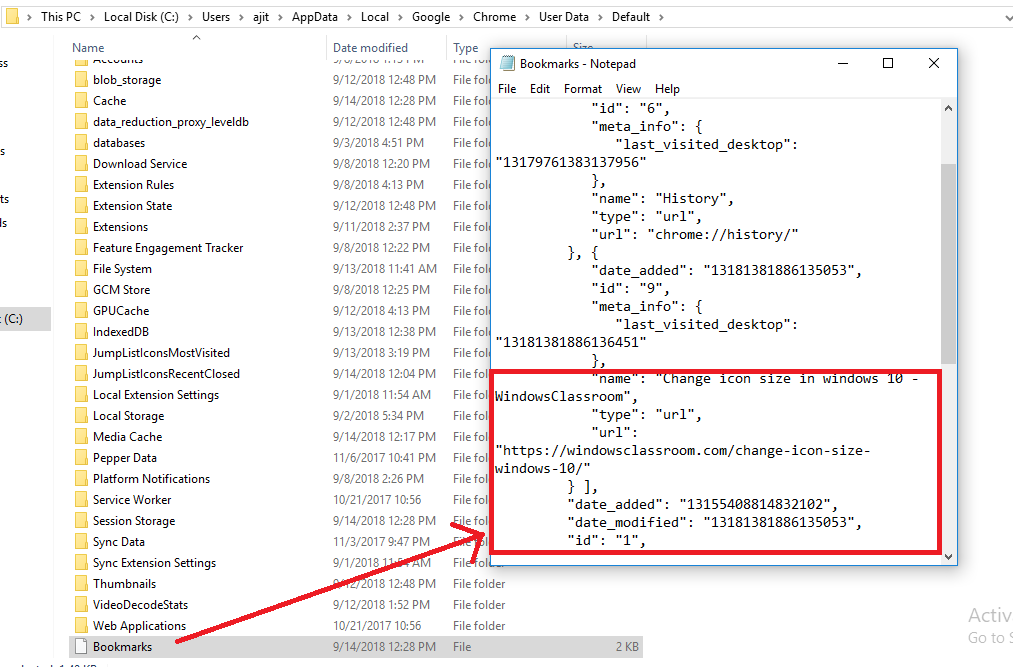 Chrome is one of the most preferred browsers that offers a range of features. In order to offer secure personal settings Chrome makes your information available to you only. May it be your chrome bookmarks, favourites chrome hides it in a special folder that cannot be viewed without signing in to your user account on Windows.
Other useful post: Export chrome bookmarks
Certainly it may be bit tricky for you at times to locate the bookmarks but you know that your data is secure on Chrome. With the knowledge of how to locate the bookmark file you can easily find out the bookmark location on chrome and retrieve your bookmarks easily.
Simply follow the steps given above and you will get the list of your bookmarks as they are still there on chrome just hidden and not lost. Make sure you browse through the list of files carefully.
Follow Us On: