Disable Touch Screen Windows 10
How to Disable Touch Screen Windows 10: Many latest Windows PC are available with touch screen with features disable touch screen windows 10 as there is high demand of two in one system that is touch focus and OS of Windows 10. Also, touch screen provides a lot of functions. The reasons why any individual would choose Windows PC 10 touch screen varies or simply do not want to use touch screen at all.
The reasons may include the need to have just a beautiful PC or powerful PC just as Surface Laptop, Surface book which has no touch screen features or may be the touch screen has stopped working.
Well the reasons can vary but you can easily disable touch screen in Windows 10 if you do not wish to use it. Here is how you can do it.
Steps to disable touch screen Windows 10
Open- Windows Device Manager
Go to – Human Interface Devices and then HID – Compliant Touch Screen
Right click on it and then select – disable driver. In order to enable it again you can follow the steps 1 -3, but remember you need to restart your computer after you enable the driver again.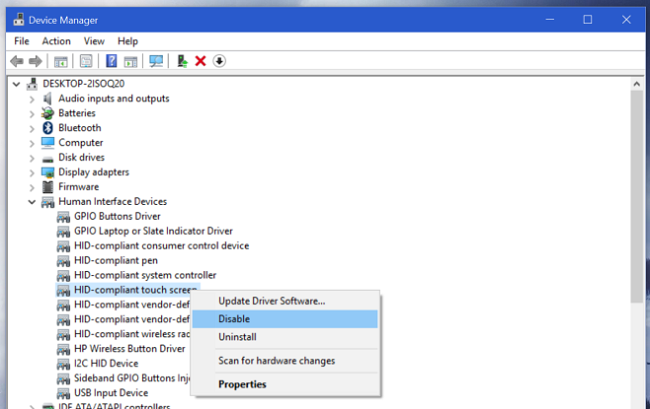 Steps to enable the touch screen
In case you decide to enable the touch screen again you can follow the simple steps given below.
Open – Device manager
Expand – Human Interface devices
Right click – HID- compliant touch screen as done above
In this step select – Enable device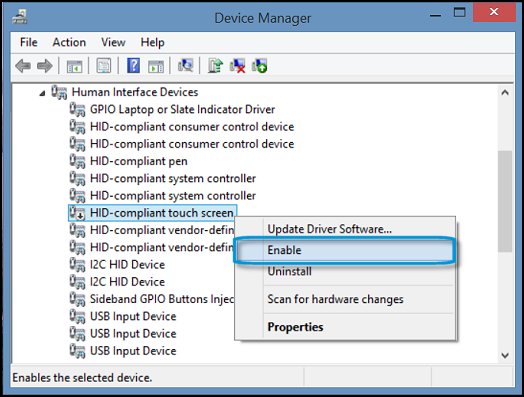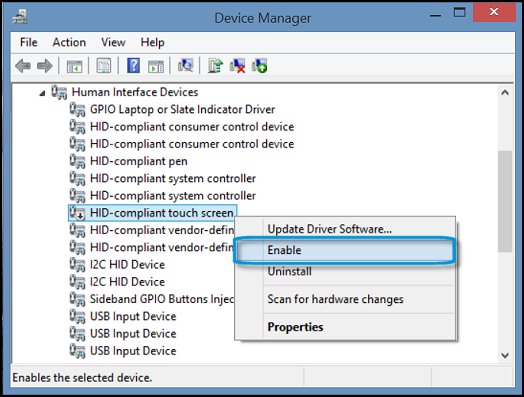 The touch screen function will be enabled again on your device.
The latest version of Windows 10 has been designed with touch screen feature and its works really good just like traditional ways of providing input to the device like keyboard or mouse. The Settings, Start and lock screen are designed specifically for the latest touch screen OS.
Also read the article: How to split screen on windows 10
The Windows Tablet is designed especially to provide both keyboard input system as well as touch screen. Well, Windows 10 doesn't come with any in-built function to disable the touch screen and you can do it by using device manager only.
Of course the new laptops that come with touch screens seems to be handy for some while others find it comfortable to use the traditional way of using the laptop by making use of mouse and keyboard. In such cases you need to disable touch screen windows 10 as if accidentally you touch the screen and you can get into a mess.
If you do not wish to use touch screen it is always better to disable touch screen windows 10 temporarily. You can follow the steps given above and easily disable the touch screen function on your laptop.
The touch screen is useful if you are willing to use touch screen else it is always better to turn it off so that you do not touch the screen accidentally and land into creating a mess. Make sure you understand how to disable the touch screen so that you can use your laptop the traditional way with Windows 10.
Follow Us On: