Fix ethernet port not working: Nowadays, WiFi connectivity has turned out to be very popular. Still, in some cases you may find the need for using the Ethernet for the Internet connection. Ethernet refers to the use of a wired connection that needs a router. You can find Ethernet connections at the backside of your computer. There are a cable and connector, useful for Ethernet port. Most of the broadband routers have single or multiple Ethernet ports. Due to this configuration, more than one computer system in the network access the internet. However, some users complain that their Ethernet port is not working its function rightly or ethernet cable not detected. It indicates that they are not able to connect their internet connection with the computer.
Causes of Ethernet Port not Working Windows 10
We have found out the potential reasons behind the connectivity problems of Ethernet users, using Windows 10.
It is one of the reasons, for which you face the connectivity issues. You can find an error message while moving the computer. Thus, you have to plug the cable
While you are moving around your computer, this Ethernet car can come out of the slot, present on the motherboard.
Missing or corrupted network card drivers
The driver of the network card can turn out to be outdated or damaged. Some of us choose driver updating tools for installing the network driver.
How to Fix Ehthernet Oort not Working
Different methods for managing the Internet connectivity issue of Ethernet users-
1. Check out whether you have activated Ethernet system
Have you unplugged network cable? Have you disabled Ethernet adapter? Using your Device Manager, you may have mistakenly disabled the Ethernet. That is why you have to know the status of the connection. You may also find some devices, disabled randomly.
Steps for activating the Ethernet
Press R by holding Windows key
Type devmgmt.msc
Press Enter Key and you will find Network Adapters. Double click on it
Double click Network Adapters
Locate network device and then rick click on it
Hit the option Enable. Your system is enabled when it is showing the option, Disable.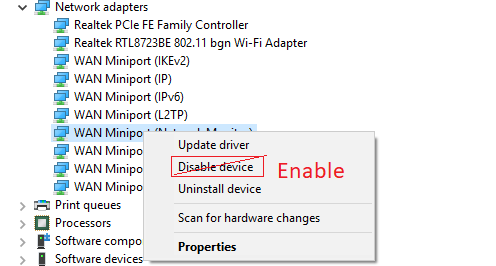 After going through these steps, you have to check out whether Ethernet is performing its function.
2. Resetting your Ethernet adapter to Fix issue ethernet port not working
Reinstallation of Ethernet adapter in your Windows settings is one of the options to you. It enables you in resetting the Ethernet components to default settings, present in your Windows 10 OS Creators Update.
Turn on the Settings.
Find the menu for Network & Internet 
Then, go to the Status tab, and you will find Network reset option by scrolling it down
Click on the button Reset Now
Choose Yes option for restarting your computer.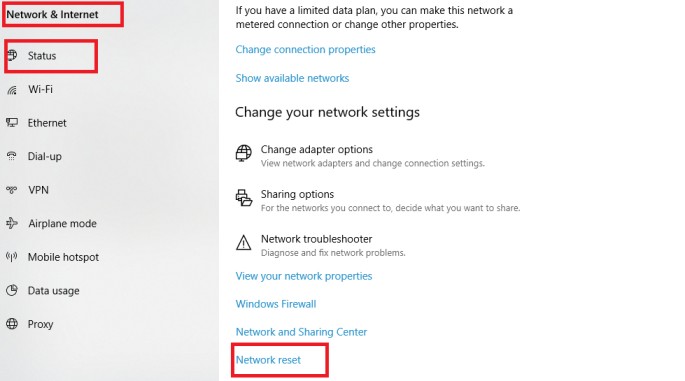 3. Modify the configuration to your Network 
The IP related issues may cause the problem to your Ethernet setup on Windows 10 Creators Another troubleshooting option to you is to use Command Prompt for writing command lines.
Find the Start Menu
You can find different categories, and you need to click on W
By right clicking on Command Prompt, you can find another option- Run as administrator
"netsh winsock reset catalog" You have to write this command and then press Enter
Then write another command line- netsh int ipv4 reset reset.log

However, while these command lines are not applicable, you have to start resetting your IP address.
4. Get some more tips for solving Ethernet port not working problems
In some cases, you can find the damaged port, preventing you from having an Internet connection. Thus, you need to ensure that you have chosen the best port of your router. Your router may have more than one port. You have to link the Ethernet cable to a different one. While you have accomplished the task, you must check out whether you have solved the problem.
Temporary deactivation of antivirus is one of the things, causing issues. In any antivirus system, you can find the disable option. Deactivate the antivirus and then check out the functionality of your Ethernet.
While the Ethernet cable is not in the proper shape, you would have different issues. When there is a longer cable, going through doors, you may find damaging signs at some sites. Thus, you have to check out this wire thoroughly for solving the problem.
We have talked about different methods for solving the connectivity issue of Ethernet port not working. You may try out these processes for finding the solution.
Follow Us On: