How to Fix Windows 10 Taskbar Not Working
How to Fix Windows 10 Taskbar Not Working: Microsoft is known for providing the user-friendly user interface OS. Most people update their windows version and switch to Windows 10.  While updating Windows 10 they encounter issues related to taskbar like windows 10 taskbar not working properly, problems with software drivers start menu etc. if you are also facing the problem with taskbar and find it not working you may not be aware of the solutions to fix the problem. This article will help you learn the best possible solutions to fix the problem.
Ways to Fix Windows 10 Taskbar Not Working
1. Restart Windows 10 To Fix Taskbar
This is the easiest way to resolve the issue when the taskbar in Windows 10 becomes unclickable. All you need to do is simply restart the system. It is recommended to all Windows users that the first thing they should do when they face issues with windows 10 taskbar not working or related issues is to restart their system. The process of restarting your system can help you resolve the issues without wasting time in trying other options. You just need to restart Windows Explorer to resolve the problem of taskbar not working in Windows 10 after you update your current Windows version to Windows 10.
In case you face problems with manually restarting your system you can also follow these simple steps
Press Ctrl+Shift+Esc keys all together
Next appears is a dialogue box for Task Manager
Select- Process tab
Select the option – Windows
Restart your system Windows 10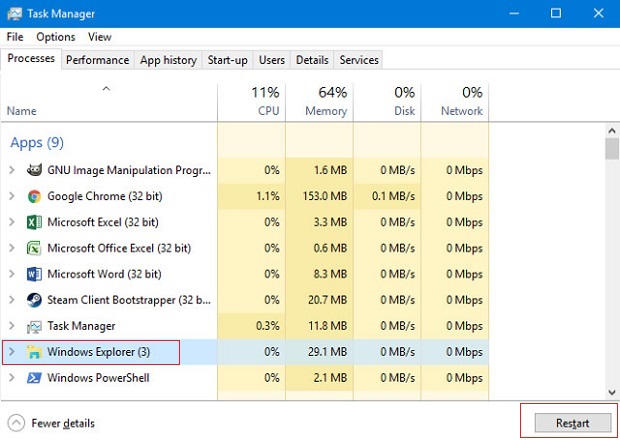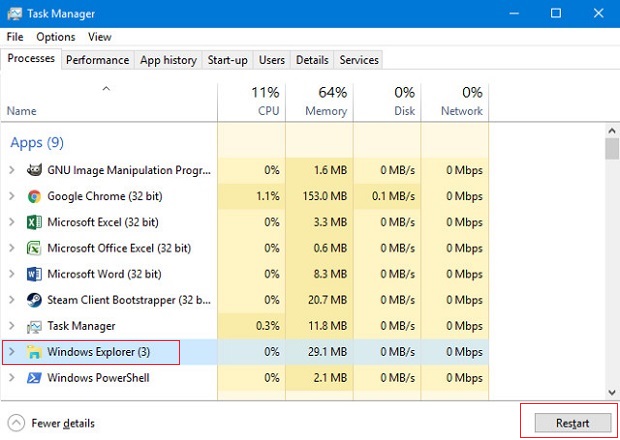 Related Post: Set up Dual monitors on windows 10
2. Install the Updated Version of all Drivers
The error where windows 10 taskbar is not working is really frustrating and often this problem arises due to error in software driver. Software drivers means the existing version of drivers that you are using on your system may be outdated. When you do not use the updated versions the older versions tend to be incompatible with Windows 10 and you get the error- windows 10 taskbar not working which is due to the outdated version of software drivers.
To update the software drivers follow these simple steps
Figure out the outdated drivers
Restart your system
3. Add a New User account to Your System
This method is also useful in resolving the taskbar issue wherein you can add a new user account to your system. In other words you have to log out from the current user account and log in back using a new account.
In order to add a new account, follow these steps.
Open – Settings App
From the Setting options select – Accounts
From the list select Family & Other users.
Select the option found under Others users – Add someone else to this PC.
From the list select- I don't have this person's sign-in information
Click on the option- Add user
Create user
Click- Next
Change the account type- new account to an administrator account.
Click- OK
The above methods will definitely work and if not you can reset the system, but do not forget to take a backup of your data before you reset it.
Read Next:  Fix error code 0x80004005 error in Windows
Follow Us On: