How to Fix svchost.exe (netsvcs) High Usage Issue in Windows
How to fix svchost.exe (netsvcs) high usage issue in windows: Svchost.exe is basically real Windows process that hosts a plenty of services that Windows utilize to carry out different functions. And netscvs is among the other individual services. Svchost.exe is extremely crucial for your system to operate securely and stably. In short Svchost.exe is what your Windows needs to function properly.
On the other hand many users often complain that Svchost.exe eats up the CPU memory without any specific reasons. For instance even when they aren't running any programs.
So, Svchost.exe high usage issues in general cases occur when the system is attacked by a malware program or a virus. In other cases high usage issues or memory leak problems also occur due to Windows Update, individual programs, log files etc. This article will help you resolve the high CPU usage issues that occur because of Svchost.exe.
Methods to Fix svchost.exe (netsvcs) High Usage Issue in Windows
1. Scan your system for viruses
A lot of malicious programs or viruses can lead to Svchost.exe high CPU usage or memory usage issues. So, make sure that you check your system for malicious program or virus that may be infecting your system before you try to fix the Svchost.exe high CPU usage issue.
2. Identify and disable the specific service that leads to svchost high CPU usage issue.
Svchost.exe is basically the process that most programs and service need to run successfully. So, identify the program/service that runs under the process- Svchost.exe and is eating up your CPU and other memory resources and simply disable them or uninstall them completely from your system.
To accomplish this task you can carry out the simple steps.
Press- Ctrl+Alt+Del keys together and open- Task Manager
On Processes tab, just check the checkbox that shows – Show processes from all users.
Right Click the process – High usage Svchost.exe and select- Go to service
On the services tab you will be able to view the list of highlighted services running under the process- Svchost.exe
Now identify the process that is eating up CPU usage and you can do it in two different ways mentioned below
Either you can a research on Google to find out to check if a particular service is harmful for your system or not
Or
You can try restart one by one till the CPU services get back to normal.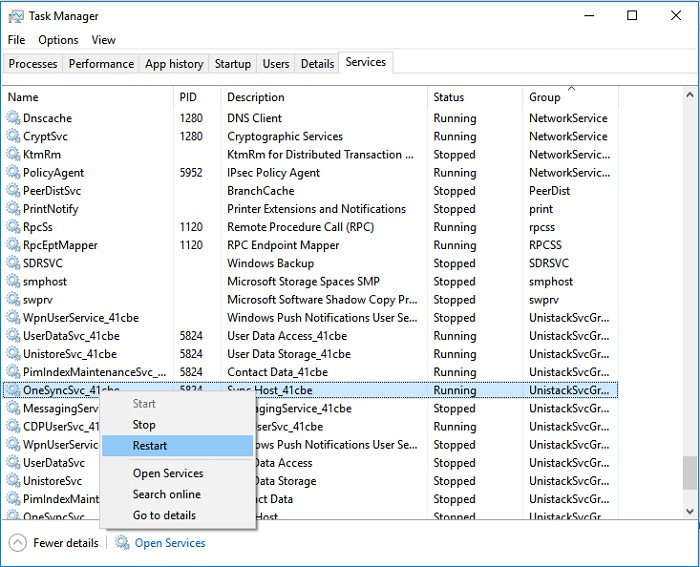 After you figure out the service that is suspicious you can disable it.
3. Empty the log – Event Viewer
In certain cases Svchost.exe high CPU usage issue is related to huge log files present in event viewer on Windows. So, the best way to resolve the problem is to empty the log- Event Viewer. To do this you need to
Press Windows key+R together to open- Run command
In the run command box just type – eventvwr and hit enter
In Event viewer- you can see Windows Logs– double click on that
Now right click – Application and then select- Clear log
Carry out the same steps to empty – Setup, Security and System log
Now restart your computer.
Follow Us On: