How do I Sync My Settings in Windows 10
How do I Sync My Settings in Windows 10: Windows 10 is available with a good number of settings and features. Whenever you turn on the Synchronization settings, the same keeps track of your entire settings and even sets them on any system running on Windows 10 for future use. This Sync feature has turned out to be extremely useful for users who have multiple devices running Windows OS. It is also an essential feature in Windows 10 wherein it helps the users to synchronize multiple devices as well as personal settings to any system which is logged in via a Microsoft account. Now, let's take a look at how do I sync my settings in Windows 10.
Syncing Settings in Windows 10
How does Sync Settings work in Windows 10
In Windows 10, the Sync settings are present in consolidated formats. Windows 10 does have plenty of features when compared to Windows 7, Windows Vista and XP.  Windows 10 also comes with security features and topologies along with a built-in antivirus system. For any user, it is quite essential to have a Microsoft account. This is mainly because the entire synchronization feature is dependent on this very process.
The Microsoft account can be utilized to log into any other device along with personalized settings. The synchronization settings in Windows 10 are now known as "Sync your settings" and has been relocated to Accounts group under Windows Settings. Also, the number of available choices has been reduced to 7 making it all the more manageable.
The very first option that any user will come across is to turn off the synchronization settings. This implies that the Microsoft account on that system is local. Therefore, any changes in the settings will not be replicated on any other system even if you login with the same account.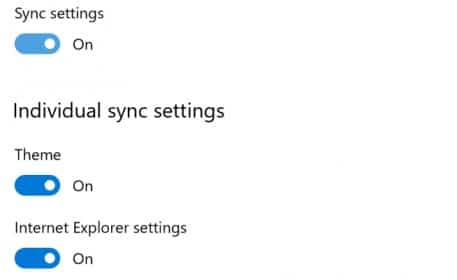 The individual synchronization settings are available right below the master synchronization switch. Such settings will get replicated from one computer to another whenever you login with your Microsoft account.
How do I sync my Settings in Windows 10 – Full Steps
In order to enable the device synchronization PC settings Windows 10, you can follow the below mentioned steps:
You can start by clicking on the Start
Following the "Start" button, you will have to click on the "Settings" icon.

You will now have to click on the "Accounts" button.

You can then login through your Microsoft Account. In addition, you will have to fill in all of your account information.

In case, you do not come across last option, Select the "Sync your settings" option.

The last step is to turn on the switch which is available next to the Sync settings


Understanding the Sync PC settings Windows 10
The initial Sync settings are quite self-explanatory.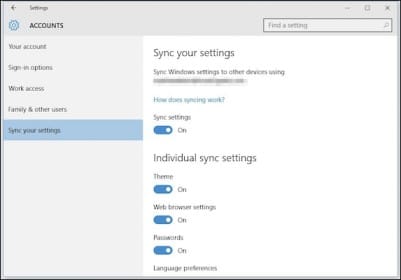 The "Theme" setting will synchronize your background as well as color choices.
Following it is the "Web browser settings". Microsoft Edge is the default browser available in Windows 10. The same synchronization settings will be applicable to that including the logins, bookmarks and themes.
In addition, all of your "Passwords" which the user stores on the Windows 10 machine will also be synced so they can avoid retyping the same.
The other half of the settings includes


"Language preferences". This comes in handy if you use like to use Windows 10 in different languages.
In addition, if you utilize the "Ease of Access" synchronization settings, then all of the adjustments which you have made with respect to its accessibility will be replicated to all of the Windows system.
The "Other Windows settings" is amongst the last of the Sync settings option and is applicable to desktop items like position of taskbar, window accents and so on.
Summary
Through its synchronization settings option, the users of Windows 10 can keep their multiple systems in harmony. In this way, you don't have to spend a majority of your time on repetitive work such as re-entering browser settings, theme customization as well as other settings manually into all of the systems. In addition, you can also disable any of the available individual sync settings in case you do not wish to sync certain items.
You can take advantage of all the above mentioned features through your Microsoft Account. Therefore, in case you do not have one, you should create one as soon as possible.
Follow Us On: