How to Create Shortcut Desktop
Create shortcut desktop: Creating desktop shortcuts for various documents, web page or downloads certainly help you to go directly go to that particular document, page or download link that otherwise may take lot of your time to search for that specific location where the information is stored.
This article will guide you on how to create desktop desktop for a particular file/folder, webpage on internet or download link to the desktop.
3 Ways to Create Shortcut Desktop
1. Create desktop shortcut for File/Folder/Program
For any file/folder that you use you can create desktop shortcut to the file/folder on your desktop so that it saves your time to crawl through folders and drives to search for the same. It is certainly helpful for people who often tend to forget whey they saved a specific file/folder on their PC.
On your PC go to the specific file or folder you want to create shortcut for on your desktop
(Ideally, Microsoft by default saves your document in the folder –My Documents if you do not specify the exact location where you want to save your file.)
Right click on the file/folder – It will show you a menu
Scroll down the menu that you can see and then on the list left click – Send to item on the list shown. You will see a menu again
Left click on – Desktop (create shortcut) item from the list
(It will create a desktop shortcut for the folder/file on the desktop)
Close/minimize the open windows.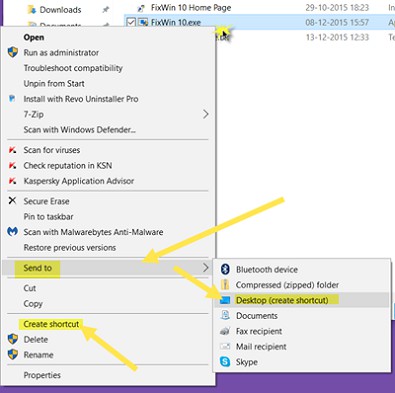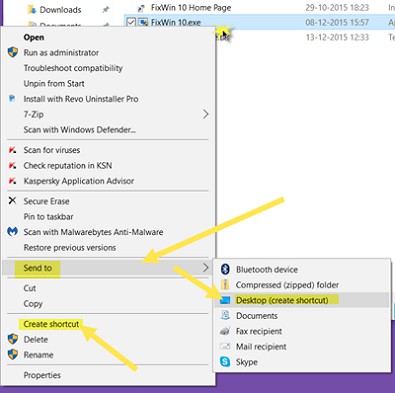 After you close all the windows/minimize them all, you can see the  desktop. Here search for the desktop shortcut created by you.
The desktop shortcut icon will allow you to open the specific folder/file. In case you have created the desktop shortcut for folder, the icon will appear like a folder. Also the name for the shortcut created for file/folder will begin with Shortcut to.
2. How to Create desktop shortcut for Web page
In your browser open the particular web page you need desktop shortcut for
Left click on – File menu located at the top of your browser. You will see a list that appears.
Left click on – Send
Left click – Shortcut to Desktop. It will create the shortcut for this web page on your desktop.
Close/minimize browser window
Check on your desktop you will find a new icon that looks like your browser icon for the specific web page you created.
Know some other methods to create website shortcuts here
3. Create desktop shortcut for downloads
When you save downloads online there are a couple of sites that automatically save the shortcut to the desktop of users. You may have also tried doing this by saving it using the feature – Save Target As
Basically it is not easy to save downloads to the desktop, so the best thing you can do is save downloads and go to the folder created for downloads and add this to the backup.
The above methods can help you create desktop shortcut easily and save a lot of time in finding the right file or folder or even a web page.
Follow Us On: