How to Find Duplicate Photos in Folder and Photos App on Mac: If you have been using your Mac for years, chances are high that there are many duplicate photos on your Mac. Duplicate photos are the most common type of duplicate files. They are quite useless and take up precious storage space. So, it's a good idea to get rid of them.
By finding and removing duplicate photos on your Mac, you can free up space and make room for new files. It's possible to manually identify and delete duplicate images, which, however, will be time-consuming and tedious. The easiest and most efficient way is to use duplicate photo finder software. Cisdem Duplicate photo Finder is often considered the best duplicate photo finder Mac (https://www.cisdem.com/resource/top-5-best-duplicate-photo-cleaner-for-mac.html)due to its high performance, versatility and ease of use. In addition to images, it can also find duplicate videos, audios, documents, archives, packages, etc.
On a Mac, there can be two types of duplicate photos: duplicates in folders and the ones in Photos app. In this guide, I will use Cisdem Duplicate Finder for Mac and show you how to search for and delete these duplicates.
How to Find Duplicate Photos on Mac
1. How to find duplicate photos in folder on Mac
Step 1. Download Cisdem Duplicate Finder: Duplicate photos finder Mac
(https://www.cisdem.com/duplicate-finder-mac.html) and install the app. Open it.
The app supports macOS 10.10 and later, such as macOS 10.15 Catalina.
Step 2. Click the plus icon + to add folders or drives to scan for duplicates. Click Scan. It allows you to find duplicate photos:
in a folder/volume on your Mac's hard drive or an external hard drive, SD card, USB flash drive, etc.
across multiple folders or drives.

Step 3. Once it finishes scanning, you will be presented with the results window. By going to the Overview tab, you can find a pie chart overview of the detected tab. To view the duplicate photos, choose the Images tab. There, they are listed in group. You can easily sort and search among them.
There are three preview modes. The first (default) mode lets you conveniently preview and compare photos side by side. You can use the zoom bar to zoom in/out preview.

Step 4. When the scan is done, this Mac duplicate photo finder will automatically select duplicates for users to delete with one click. To give users more control, it also offers multiple selection rules. You can choose a desired rule to batch select all unwanted duplicates.
Step 5. Click Delete to get rid of the selected duplicate images. Confirm the deletion. By default, they will be moved to Trash.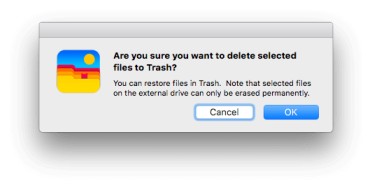 Tip before using this App
Before you perform a scan, you can configure settings if needed. Click the settings icon in the top right corner.

In General settings, you can select a scan method or removal method of your choice. By setting the min and max file size, you can set the app to only scan files within a certain file size range, which can be useful. For example, you can set it to ignore small files. As a result, the scan time will be reduced, and you can quickly find large duplicate files to delete.

The Ignore List feature allows you to exclude files/folders from scan by location or extension. Also, there are options for you to ignore system hidden files/folders and bundles from scanning.

Under the Selection tab, you can find a list of the available selection rules (mentioned above in Step 4). If you want to use the rule Select by Priority, then you need to set the priority value in this interface, before you click Scan (in Step 2).

You Might Also Like: Show hidden files in Mac
2. How to find duplicate photos on Mac Photos app
Included in macOS, Photos (previously iPhoto) is a photo management app. It's common for people to have duplicates in Photos app on Mac. How to delete duplicate photos on Mac Photos app? It's easy.
In this part, I will also use Cisdem Duplicate Finder. As mentioned above, the app supports both internal and external storage. Therefore, it is useful even if your Photos Library is stored on external drive.
Steps to find duplicate photos on Mac Photos App:
Step 1. Quit Photos app first if it's running.
Step 2. If you have multiple Photos Libraries, you need to make sure that the Library that Photos is using is the one from which you need to remove duplicates. If not, ignore this step.
Press and hold the Option key, and open Photos at the same time. In the Library Name box, choose the desired Library. Click Choose Library.
Step 3. In Photos app, from the top menu bar, select Photos > Preferences. In the Library Location section, click Use as System Photo Library. If the button is grayed out, then the Library is already used as the system photo library.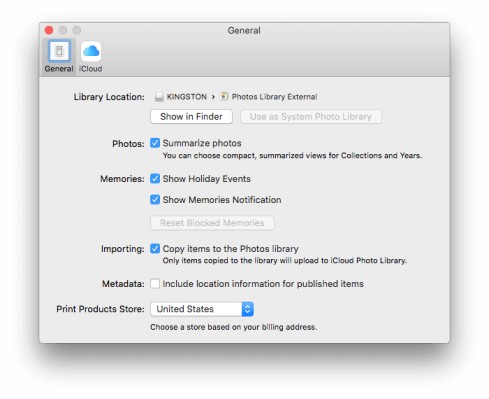 Also, click the Show in Finder button, which will open a Finder window and automatically select a Library. Leave the window open, and we will need it in Step 5.
Step 4. In Cisdem Duplicate Finder, click the settings icon to access General settings. Go to the Photos Library Location section and make sure the location matches. If not, click Change to change it.
Step 5. Drag the automatically selected Photos Library into the scan interface. Click Scan.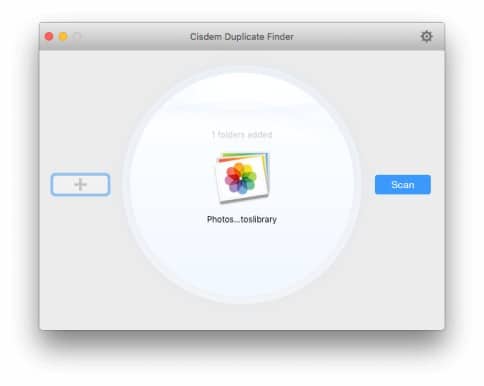 If your Mac is running macOS Mojave or earlier, a box will pop up. Click Open to continue.

If it's macOS 10.15 Catalina or later, no such box will shop up. The scan will start directly.
Step 6. View, preview and then select duplicates to remove. Click the Delete button. For details, please check out these steps in Part 1. When the process is finished, a message box will show up telling you how to complete the deletion.
Step 7. In Photos app, a new album named Cisdem Duplicate Folder will be automatically created. Open the album and mass select all the items there. These are the duplicate photos that you don't want anymore.
macOS 10.14 and earlier: Right-click and choose Delete … Photos.

macOS 10.15: Hold down the Command key when you right-click. Choose Delete … Photos.
Step 8. Now the items are moved to Recently Deleted. There, select all the items and click Delete … Items.
In this part, the steps may seem a little bit complicated, but they are necessary if you want to successfully delete duplicate photos on mac Photos app.
Conclusion
It's easy to remove duplicate photos from Mac folders and Mac Photos app if you use the right software. Cisdem Duplicate Finder for Mac makes it easy, quick, effective and flexible to look for and eliminate duplicate files. It's not freeware, but a free trial is provided, which allows you find duplicate photos on Mac for free. The only feature that is not available is deletion. With the software, you can quickly get rid of unwanted duplicates and free up storage space.
Follow Us On: