How to Make a Slideshow on Windows 10
How to Make a Slideshow on Windows 10: Are you new to Windows 10 and haven't yet figured out all the ins and outs? Constant system updates can get on your nerves when you have to learn new layout, settings, and programs every time. This article will help you get to know your default photography tools as well as introduce you to other great programs for images and slideshows. Whether you want a simple tool to view pictures or you are looking for more advanced software to create a slideshow with music on Windows 10, you are on the right page.
Slideshow Maker Windows 10
I. Windows 10 in-built slideshow maker
At first, let's talk about the default programs that your computer already has. They are quite simple and plain, however you can use them only to view the images on your PC.
1. Photos App
It is a great program to search for images: you can browse them by date, place, and people. Photo app has even a face recognition tool that will help you find every photo you have with a certain person. Thus, you can create folders and categorize them by themes or years and create a nice and organized overview of your entire gallery. Finally, if you would like to switch to the slideshow mode click on the settings icon in the top-right corner of the program and select "Slideshow".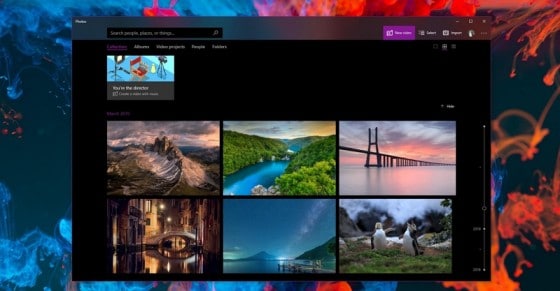 3. File Explorer
This is another default program that Windows 10 has to offer. You simply open a folder with images, click on Picture Tools and go to Slideshow and that's it. It is a very quick and easy tip on how to view a slideshow on Windows 10. If you are looking for a more help in file explorer click the link.
II. 3rd Party Program to Make Slideshow on Windows 10
In case you would like to create a fun and lively slideshow in the real sense of the word with music, effects, filters, and other designing tools, check out the following programs.
1. Clideo: Online Slideshow Maker
It is an online tool to make slideshows. Clideo is a massive time saver  – all you need to do is to upload the images and choose the duration of the slides and the program does everything for you. However, if you would like to design your own slideshow and have access to more editing options, it might not be the perfect fit. Besides, some people are concerned about uploading their images to an online tool – who knows where they might end up?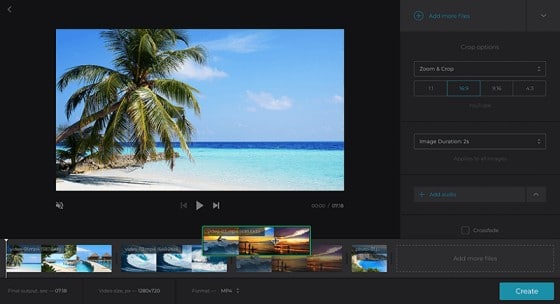 2. PowerPoint
This program was the first to come to your mind, right? While it is perfect for work presentations and diagrams, it lacks a huge variety of designing tools to make a slideshow on Windows 10 pop and stand out. So, if you are looking for a program to make a professional client's presentation or a simple slideshow with pictures and graphs, PowerPoint is a suitable weapon. However, if your goal is to make an exciting slideshow with a nice tune, cool effects, and your own design, you might need something different.
3. SmartSHOW 3D Slideshow Maker
If you are looking for a fun and dynamic slideshow maker, this program could be something you are looking for. It is not an online program, so you don't need to worry about privacy issues. So why exactly SmartSHOW 3D? This tool contains tons of designing tools like animation and transition effects, clipart, frames, and masks. Besides that, it offers an extensive gallery of pre-designed templates for any occasion – wedding, travel, birthday, anniversary, etc. Next, you can choose from over 200 tracks to spice up your slideshow and set the right atmosphere. Finally, this slideshow maker has some basic photo editing tools to enhance quality and improve color composition. Follow the link to find out more tricks and tips on how to make a slideshow on Windows 10.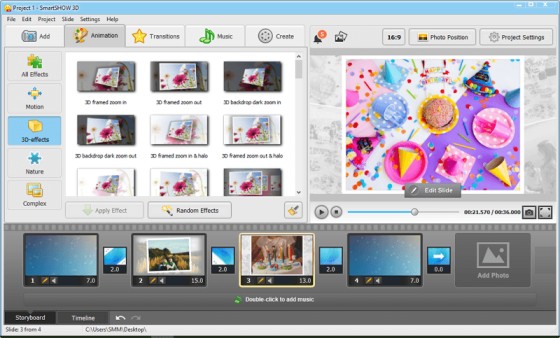 Consider your goals – what kind of slideshow do you need? Knowing your requirements and desires makes it easier to make the right choice and pick the perfect slideshow software for Windows 10.
Follow Us On: