How to Partition a Hard Drive Windows 10
How to partition a hard drive on Windows 10: Normally there is a single partition provided by computer manufacturers on hard drive. This article will show you how to partition a hard drive windows 10. However, most users using Windows will create additional partitions in case there is one C: drive available on their hard drive. The need for partitions differ, but the two main reasons are – your computer can encounter a virus attack and if there is a virus attack on the single partition and you tend to format the partition, imagine what will be the consequences? So you need to partition hard drive on windows 10 to back up your data and store data on more than one partition.
Secondly, you can organize your OS, data and programs separately. It is quite easy to manage data. Apart from these two main reasons, many users choose to partition hard drive on windows 10 as they access multiple operating systems via one PC or they may also think that multiple things on a single partition would affect the speed of their computer. Whatever the may be, it is a smart choice to partition a hard drive on Windows 10. It indeed gives you more space and organized platform to store your data.
Related post:  Learn how to enter bios settings in your Windows 10 Pc
Now let us learn
How to partition a hard drive on Windows 10
The best option to create partitions on hard disk on Windows 10 is to use built in feature called as 'Disk Management' tool.
Let us open Disk Management tool available in Windows 10. The simplest way to access the tool is to right click- Start Menu and select- "Disk Management"
Select the particular hard drive you wish to partition. Right click on a specific partition and select- " Shrink Volume"
You can change the space limit you want to shrink and then click- "Shrink"
After you finish step 3, you will see an unallocated space at the back of D drive. Right click on that space and select the option- "New Simple Volume" and simply follow the instructions to format and make a new partition.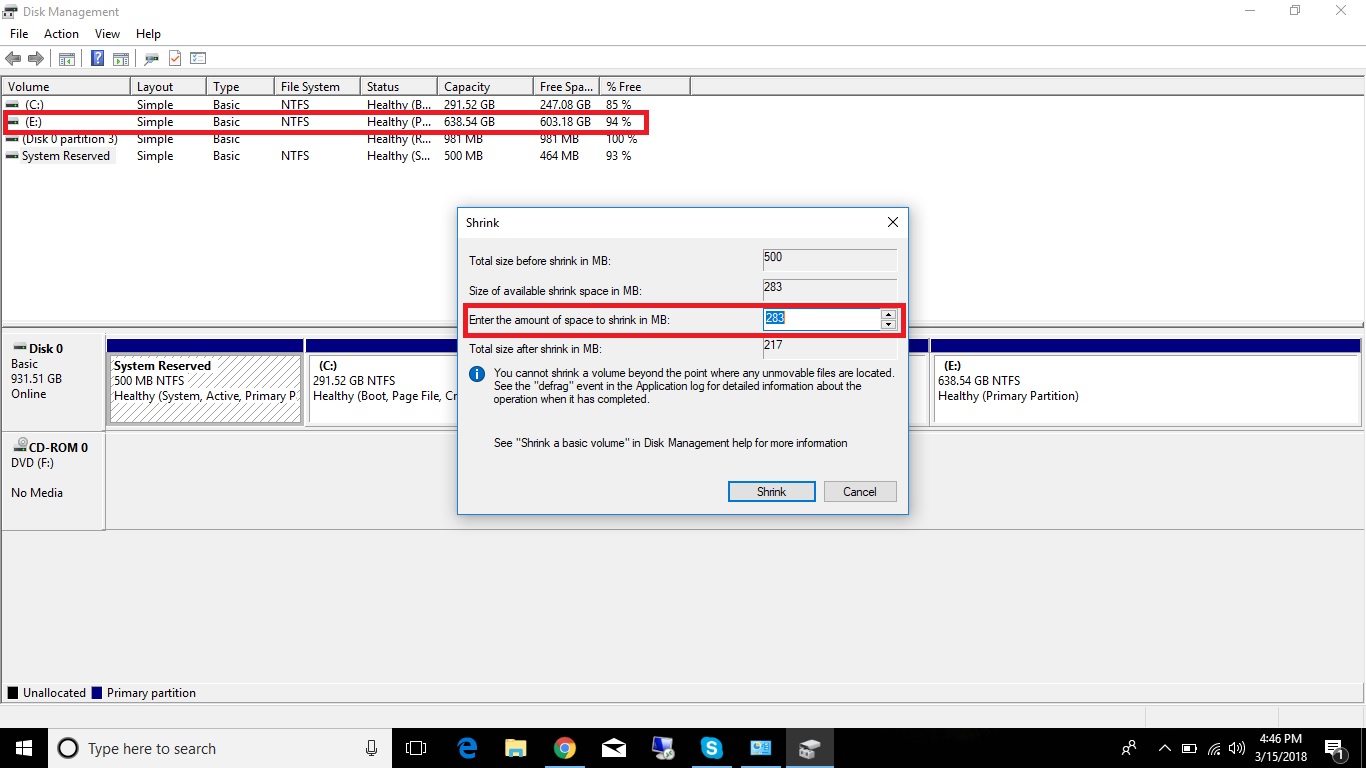 Note: The unallocated space that is created through shrinking a partition can be utilized to make new partitions only.
The disk Management tool is helpful in creating partitions on hard drive while you are using Windows 10, but this tool which is an in-built tool that comes with Windows 10 sometimes may not fulfil your partition needs. Knowing the fact, you will need to switch to some other partition programs that makes the job easier.
Third party tool to partition a hard drive in Windows 10
There are many tools available like Minitool partition Wizard that helps you create and manage partitions on your disk easily. Apart from managing partitions the tool also helps you creating, editing, resizing, deleting and formatting partitions.
The powerful functions included in many such wizards/tools enable optimum utilization of disk space. These tools also offer complete data security so you are rest assured that your data is secure.
Some of such wizards are especially designed to cater to user's needs when they encounter heavy data loss. You can also use them to retrieve lost videos, documents, photos, emails on your PC.
Learn to setup dual monitors in windows 10
Follow Us On: