Turn OFF Notifications Chrome
Turn off notifications Chrome: Websites are important for us and with advancement in web apps; we rely on websites a lot more than earlier. They are indeed useful but at the same time they can be frustrating at times for example if a site asks for your permission to send notifications or your location.
There is nothing harmful in getting some alerts from the websites but they aren't essential and just the additional element. Of course you wouldn't want your PC to interrupt you notifying you for a new message when you are already getting it on your phone via a ping. In worst cases when Cortana also sends an alert to your desktop -Windows 10 desktop making it annoying for getting the same notification thrice.
Certainly, you would never appreciate and want the ping all the time. To avoid all the noise you can simply turn off the notifications in Chrome. You can do it as mentioned below
Turn Off Notifications Chrome
How Turn off  notifications chrome in Windows 10
The task is easy. You just need to find the 3 vertical dots for menu on your Chrome browser. Click on those 3 vertical dots to open the menu (you can find it to the top right corner of your Chrome browser). Now choose- Settings from the drop down menu that opens up.
Notifications controls
Now you need to scroll down to the settings page
Click on link – Show advanced setting located at the bottom.
After the page expands go down to – "Privacy"
Select – Content settings
Now you will see a pop-up window. Here search for the sub heading that says- Notifications.
You will now see 3 radio buttons:
Block all: Turn off Ask before sending.
Block a site: Click- Add. Enter the site & click Add.
Allow a site– Click –Add. Enter the site & click Add.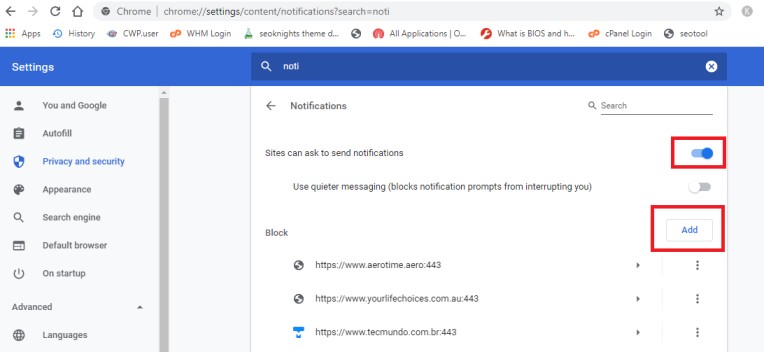 As a default setting, Chrome setting is set to – "ask when a site wants to deliver notifications". Now you need to select the very last option out of the above 3 options to turn the notifications completely. Now click on – Done and then just close your settings tab.
Related post: How to disable autofill Chrome
How to turn Off chrome notifications in Android
Open Chrome browser in Android device
Now click on 3 dots located at top right on your screen
Now click on Settings
Now click on Notifications
Here you will get option "Allow Notifications". Toggle the button to turn off notifications chrome
Here you can disbale some other chrome notifications like Browser, Complete download, Content suggestions etc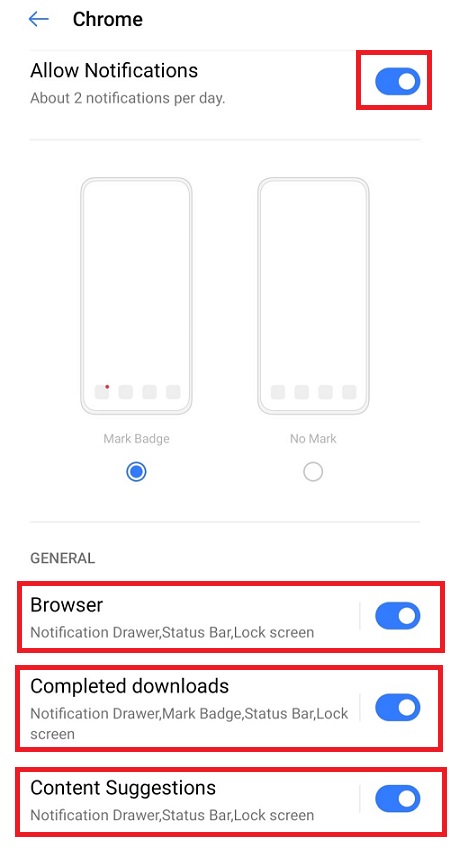 Henceforth you will not be interrupted and annoyed by any site to seek your permission. Your chrome browser has now become notification free browser for you to enjoy flawless browsing experience.
Desktop notifications are part of modern browsers. They send out messages with updates, scores, instant messages, but sometimes it also contains spam messages or advertisements. When a plenty of sites start sending notifications it becomes disturbing and you get distracted from your work. You just want to stop everything at once. Now the settings mentioned above will help you get read of the nuisance of pop-ups and notifications bothering you in the middle of your work. Now you will not have to go through the process of closing those notifications and pops to read the actual content. So, now you can enjoy the distraction free browsing, watch videos and read content that is relevant for you.
Follow Us On: