Where is Spam Folder in Gmail
Where is spam folder in Gmail and how to remove spam: Sometimes when Gmail users just send a email to their own id to check email deliver as a test email and find it not delivered. Well, the email is actually delivered but was sent to Spam folder in Gmail by Google. It is not easy to trace Gmail Spam folder. Unfortunately, once an email is sent to Spam folder for the first time, it is permanently set as a Spam email and sent to Spam folder in all further email communications. It is because the sender of the email is marked as Spam email.
Where is spam folder in Gmail
The steps mentioned below will show you how to find Spam folder in Gmail and also learn how to remove the spam for a particular sender by adding it to your contact list.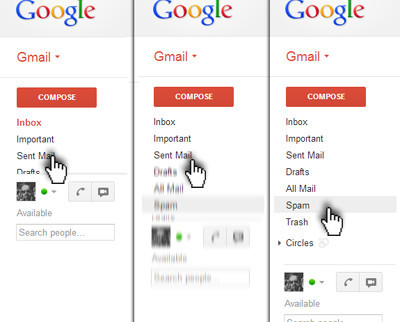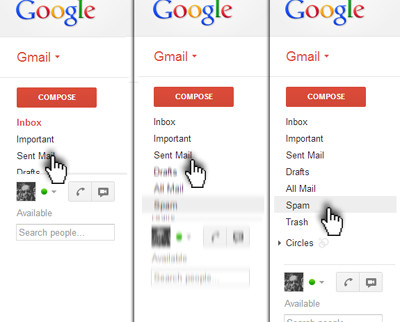 As shown in the above image, the Spam folder in Gmail is actually concealed by default from direct view. In order to find the folder just hover the mouse pointer on any of the folders located in columns towards left on Gmail UI.
The column easily expands to display the folders labels which include Spam folders too.
When you click on Spam folder you can see the text present in Spam folder shown in main user interface window.
In case your test email has been delivered to Spam folder, then you can see it as unread in bold with name and email address used.
Click on square box located at left corner on display bar that holds the email. You can see a check mark there.
Now, click on the button – Not Spam located right at the top of user interface. It will shift the email from Spam folder automatically to the Inbox.
Related post: How to turn OFF Gmail 2 steps verification
How to unblock emails on Gmail
Once you find the Spam folder in Gmail, it is better to add the sender to your contact list. This will reduce the chances of further emails (of a particular sender) being sent to your Spam folder. This is often suggested by Google as a best practice for Gmail users.
In case you come across a message wrongly being marked as a spam just select that message and hit the button – Not Spam
In case you notice that a particular sender's message is being marked as spam consistently then you can avoid such things by
Adding the specific email address to the contact list. Gmail automatically delivers the messages you get from the people on your contact list directly to your inbox.
In case something is detected to be suspicious even in messages you get from your contact list they will not be sent to Spam but will be automatically marked in red with warning banner.
It is not difficult to locate Spam folder in Gmail once you know how to do it. Many users find it difficult because Spam folder isn't visible and is hidden. The above steps will help you locate the Spam folder easily.
Follow Us On: