How to Change Default Browser
How to change default browser Windows 10: Earlier it was easy to change the default browser but then came the malware along with it. Today it is still an easy process of changing the default browser only thing is that the process is little different.
The most noticed changes in Windows 10 which wasn't seen in its earlier versions is changing its default programs which includes web browsers.
Well, if you are looking out for the process that helps you change your default web browser in Windows 10, then it is super easy and different than the earlier process.
Steps to Change default browser in windows 10
In case you are using the browser of your choice then you can proceed to the steps given below to change the default browser in windows 10, else download and install the browser of your choice and then proceed to the steps to change the default browser.
Run – Settings app and then Click-Apps.
The Apps link in Windows 10 Settings.
Click on – Default apps located on the pane towards left-hand side
The link to modify the default apps in Windows 10.
Next, scroll down till you reach the entry – "Web browser". Underneath this heading you will view the icon & name of the default browser selected currently. For example if it is  Google Chrome, click it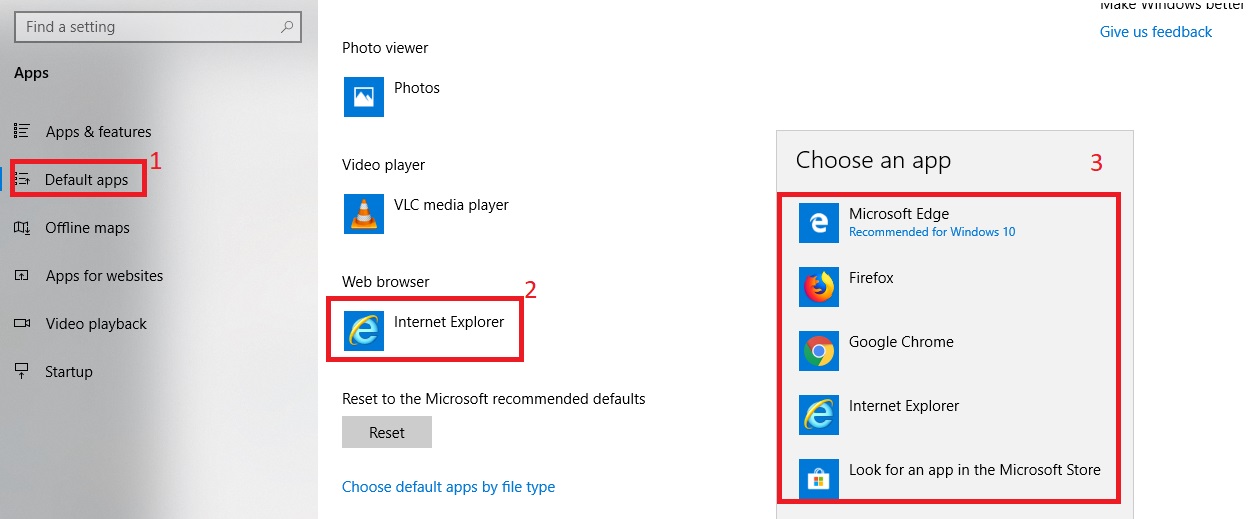 You will see a list that pops up listing the candidates being installed on the machine you are using.
The list will show Firefox, Edge, Internet Explorer and Chrome. Click on any one of your choice
Earlier, the web browsers were capable of setting themselves as  default browsers. It was while you install the program at first or every time it used to run, the browser actually checked to check it was default and then provided the option to set it if it wasn't set. It all allowed users do what they required.
Related post: How to clear cache on chrome
Later came malware into picture in different forms of browser packs, PUPs etc
In case the browser is not able to modify the default browser itself then. In case the browser is able to change to default itself then it can also be done by any other program whether or not you want it to do
Now, if any of the programs tries to change default browser in windows 10, it displays the Settings app so that you can perform it manually.
This avoids any unwanted changes that can happen without your notice.
Microsoft launched a new built-in with release of Windows 10: that is Microsoft Edge.
Ideally, when you install any new browser, you get a request immediately from the browser to set it as your default browser.
Well, you may or may not want to set it as default initially without testing your experience using it. In such cases you can choose to set the browser you prefer as your default browser in windows 10.
The above steps will help you change the default browser in windows 10 easily so that you can enjoy using your favorite browser each time you start browsing.
Follow Us On: