How to Disable Startup Programs Windows 10
How to Disable Startup Programs Windows 10: Windows 10 is certainly the most liked operating system that has millions of users. With its amazing features users find it easy and user-friendly and use it years after years. It is also the fastest and most responsive OS.
On the other hand in case you have installed a plenty of apps set while your computer starts then it can reduce the speed to boot the system. Well, it is because the more number of apps you install it automatically takes more time to boot the process and the reasons can be many. Out of all other reasons the main reason is auto-update process. To overcome this issue you need to disable startup programs windows 10
Certainly you would want to know how to deal with this issue. Well, this article will help you know about the steps to disable startup programs or apps on your Windows 10 and speed up the process of booting.
How to disable Startup Programs Windows 10
Simply in an empty area right click on the taskbar and choose – Task Manager.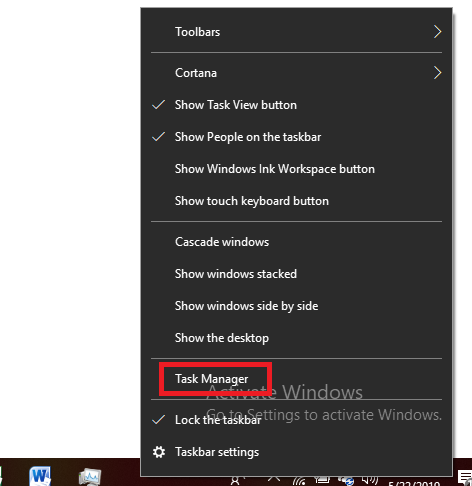 When the Task Manager is displayed
Click on the tab – Startup tab and search for the programs from the list that are enabled and run with the startup.
Now, to disable them and halt them from processing, click on that program and simply choose – Disable.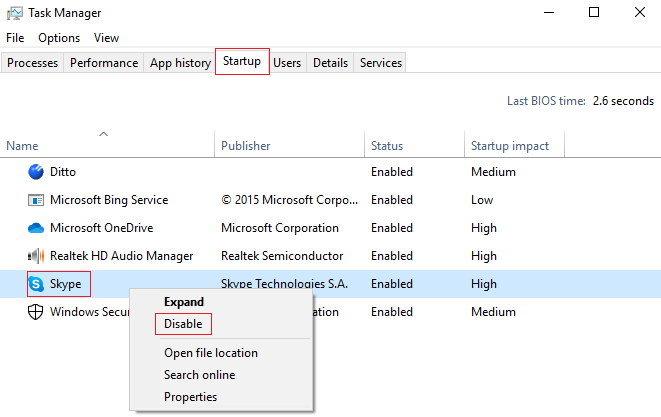 In Windows 10 there are other options available for you to understand about each app before you disable it.
Actually after installing a plenty of programs we tend to forget why we installed them and what for? But, Windows 10 will help you open the location, properties of the file for an app and in case that doesn't work you can also look for it online.
An added advantage about Windows 10 is that you can find out the affect of any program through Startup impact column which lets you know how much the program is affecting your start up time.
Related post: Add startsup programs Windows 10
It is always better to follow a pattern while setting up your new PC that is to disable programs that you don't access often. One more thing you can do is while installing any new software, simply access its options and change its settings like not to start while start up is running. You can also check frequently which software needs to be disabled mainly the ones that create high impact on the start up.
If you are thinking about which programs actually needs to be enabled then the answer actually one of them because all of them can be disabled and Windows will still start up without any issues.
Well, there are programs that you need often and want them to start with start up so that you don't have to start those programs manually.
So, the steps mentioned above will help you disable start up programs windows 10. Make sure you keep a check on the programs you don't need or don't use often. It will help you disable them and reduce the boot process time without any issues.
What programs needs to be disabled at the startup
You need to disable services/programs which are not required to run and consume a lot of your system resources like:
1) Adobe is an essential service for Windows 10 PC and it also consumes a lot of your system resources to function so you can choose to disable from the list of startup programs, and then use it whenever required.
2) Applications/services regarding Apple/iOS device, like iTunes, Apple Push, which you actually do not require to open each time when your PC starts can also be disabled.
3) Apart from the above programs there are some other programs that can also be disabled at startup in Windows 10. The programs/services differs with each computer, you need to check the ones you actually need often so that you can disable/enable accordingly from start up program list.
Follow Us On: