On Screen Keyboard is an online keyboard which can be used instead of a physical keyboard. In order to type the keys, mouse or a different pointing device can be used. Not all the users prefer using On-Screen Keyboard given in Windows OS and most of them are not even aware of the fact that their Windows comprise of on screen keyboard.
Windows actually comes with a touch keyboard so actually users do not feel the need to use on screen keyboard. Still, for any reason if you choose to utilize your Windows 10 on-screen keyboard, then here are ways that help you access on-screen keyboard in Windows 10.
6 Ways to Open Windows 10 On Screen Keyboard
1. Start menu to open On screen keyboard
In start menu or in taskbar search box type – On screen keyboard
Hit enter to open this on screen keyboard Windows 10.

2. Run command box
Press windows+R at the same time to expand – Run command box.
In that field, type – OSK (not required to type in capital) and next is to press – Enter to access – Screen Keyboard

3. PowerShell
In PowerShell, type – OSK
Press- Enter

4. Enable screen keyboard Windows 10 using – Settings
Open – Settings app. To do this click – Settings located to the left side of your Start menu.
After you open – Settings app, click – Ease of Access
Click Keyboard.
Below the section – On-Screen Keyboard, turn ON option that says – Turns on the on-screen keyboard option to launch – On Screen Keyboard for Windows 10.

5. Use Control Panel to open On screen keyboard
Open Control Panel by right-clicking Start button and then click –  Control Panel entry.
Once Control Panel starts, click – Ease of Access.
Click on the option that says –Ease of Access Center
Lastly,  click  – Start On-Screen Keyboard to open it.

6. Enable Windows 10 On screen keyboard At login screen
When you enable – On screen keyboard windows 10 at the login screen, it is useful when your physical keyboard stops working and it becomes difficult for you to unable to login into windows 10.
In such cases, using windows 10 Screen Keyboard to access your PC becomes a useful option.
Open – Control Panel
Click – Ease of Access—Ease of Access Center.
On-Ease of Access Center, click the option- Change Sign-in Settings
On your next screen, choose the option- Type without keyboard in the column – "At Sign-in"
Click-Apply and then click –OK to implement the settings on your PC.
Now, you will see – On-Screen Keyboard displayed and ready to be used at Login Screen.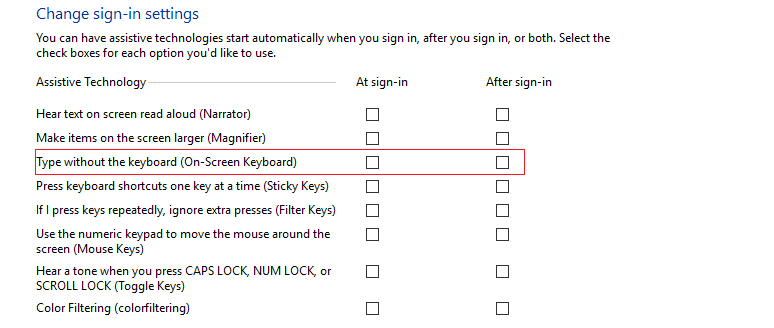 The methods given above can help you access windows 10 on screen keyboard and use it when required. In case your physical keyboard stops functioning and you want to work on important task. You can open screen keyboard windows 10 and continue working without wasting time.
The above steps are easy to follow and soon you will have screen keyboard windows 10 present on your screen for use.
Follow Us On: