Screen Brightness Adjustment in Windows 10
Screen Brightness Adjustment: We all use computer for long hours every day thus it is important to have accurate screen brightness to prevent strain on eyes while working on the system or any other device.
Windows adjust the screen brightness automatically on all supported computers, but many users disable this auto/adaptive screen brightness feature and try to modify the brightness level manually.
Luckily, Windows 10 provides a different option to adjust screen brightness which wasn't the case with it's with its earlier versions. Apart from hotkeys in Windows 10, you can also utilize Action center or Settings App to modify the screen brightness.
This article will help you know the methods that can help you change screen brightness in Windows 10.
Note: The methods mentioned below to adjust screen brightness may not work if your desktop is attached to an external monitor. You need to make use of physical buttons in order to screen brightness adjustment.
4 Simple Ways to Adjust Screen Brightness Windows 10
1. Hotkeys to Screen brightness adjustment
Most notebooks comprise of separate keys to adjust screen brightness windows 10 faster. On the laptop it can be Fn+F5/F6 are the keys used to modify the screen brightness.
Just check your keyboard to find the brightness symbol right where function keys are located.
In case the hotkeys are functioning ensure that keyboard drivers and display drivers are installed.
2. Action Center to Adjust screen brightness
Click on the icon for Action Center present on taskbar to expand the Action Center pane
Click the brightness tile to reduce or increase the display brightness. In case you didn't find the brightness tile, then simply click the button- Expand
Click on brightness tile just once and it will take the brightness level to the next level. For instance if the current brightness level is 25% it will increase to 50%. After the brightness goes to 100% it will then start from 0% again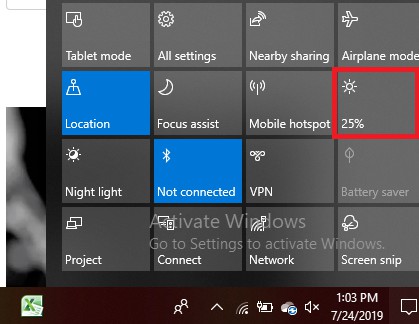 3. Change screen brightness Windows 10 using Settings
It is one of the ideal methods to change screen brightness as you will be able to increase or decrease the brightness by 1% at a time.
Open – Settings to the left of the Start menu
Now, from Settings home page, click – System
Now you will find the option – Adjust brightness level along with a slider that helps you modify the screen brightness.
In case the option is not visible click Settings—System—Display

4. Using Control Panel
This method is an easy method to screen brightness adjustment.
From system tray of the taskbar, right click on battery icon
Click on the option- Adjust screen brightness to expand Power options Window
Right at the bottom of screen, you can ding the option- Screen brightness along with a slider. Just move slider to left to reduce the brightness and move to right hand side to increase the brightness.
The above methods are easy to perform and you can try them to adjust screen brightness windows 10 as per your preferences.
Follow Us On: