How to View Saved Password in Firefox
How to view saved password in Firefox: Firefox is most preferred browser from the count of many other popular Internet browsers. It has a lot of features which enhances user browsing experience while taking care of the security of data provided by the user. Firefox helps save usernames & passwords for different websites you browse in one of its in-built feature Password Manager and you can view firefox saved password anytime.
The next time you visit the same website, Firefox remembers your credentials and fills the related details automatically in respective fields like username & password and you just need to press log in.
How to View Saved Password in Firefox
In case you want to view the details for example the password you saved last time for a particular website it can be done easily. In order to see the saved passwords in Firefox browser:
Go to Options located on Firefox menu
Expand option dialog box by choosing options on Firefox menu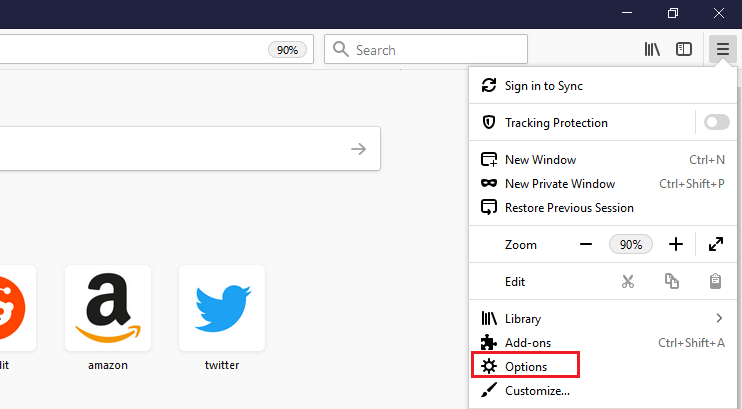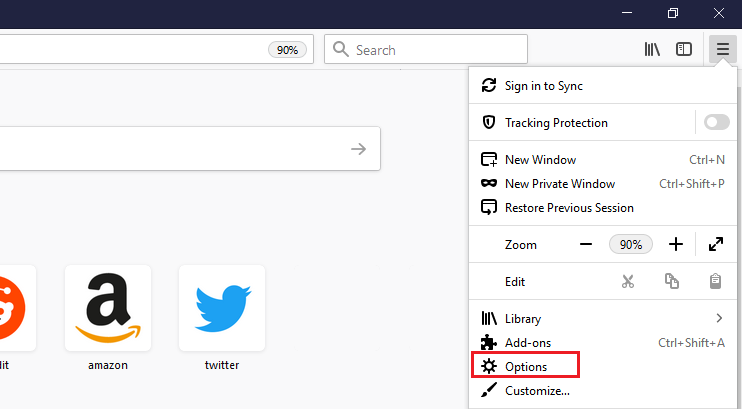 Underneath options dialog box you will see a button- Privacy & Security. There you will see Passwords box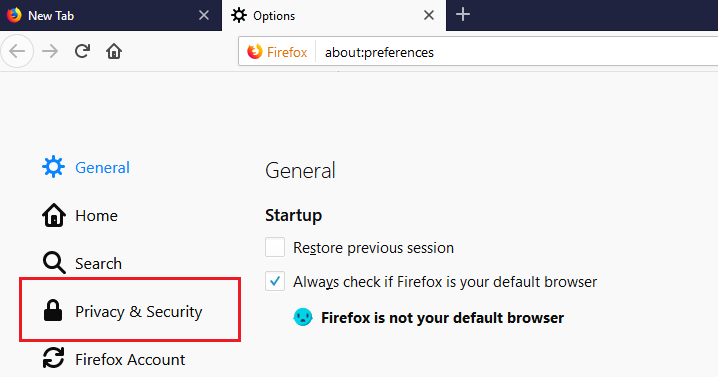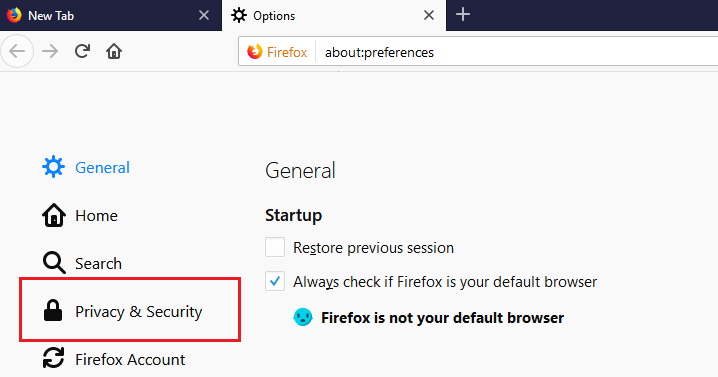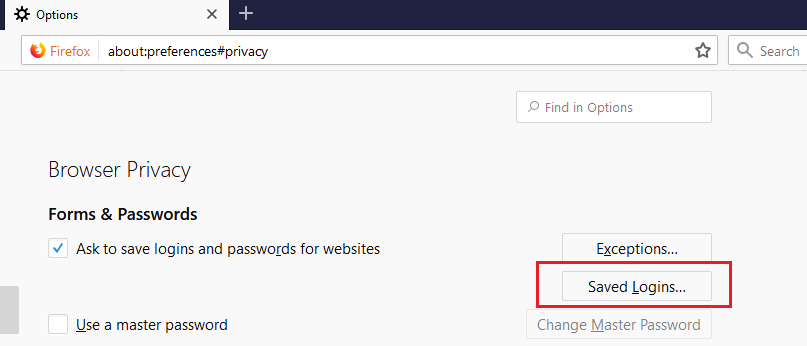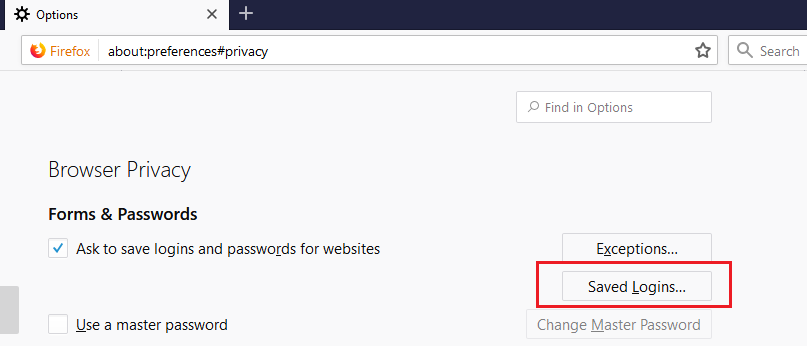 The dialog box- Saved Logins will list every website for which you already saved username & password during your last visit.
The passwords though will be hidden as it is a default setting. In order to view the password simply click on – Show Passwords.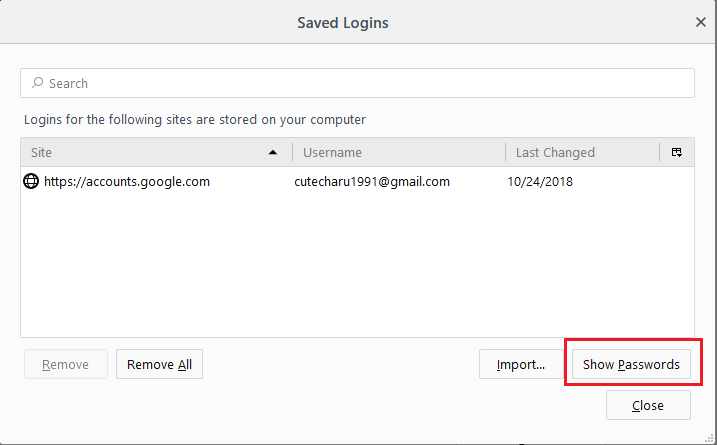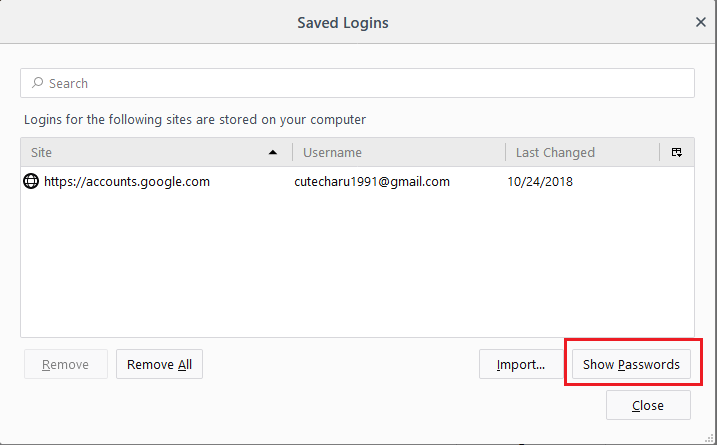 You will be prompted for your confirmation through a dialog box that appears on your screen to display passwords. You can click on Yes if you wish to see the passwords.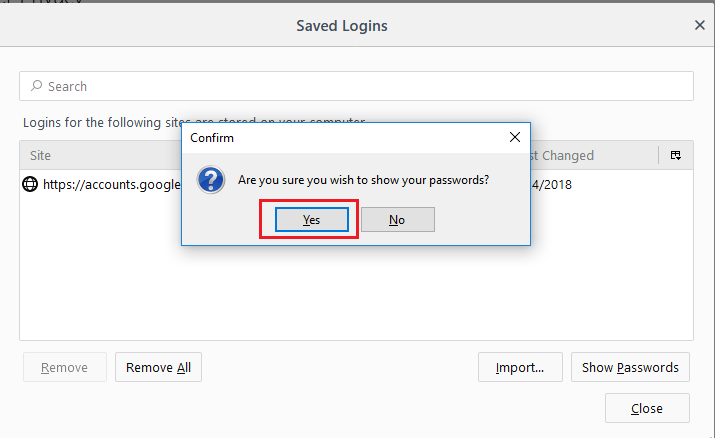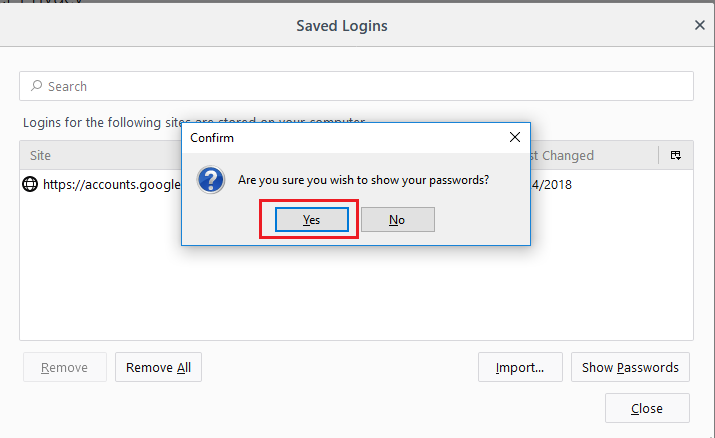 You will see a Password column that will show a list of all the passwords. It is always better to check that there is no one around you while you are watching your passwords displayed as all the passwords will be displayed in plain text format.
Related post: Find saved password in chrome
Some other options to manage Firefox saved passwords
Delete Firefox Saved passwords
Want to delete the password via Password Manager? Follow the simple steps given below:
Select the respective website and click on- Remove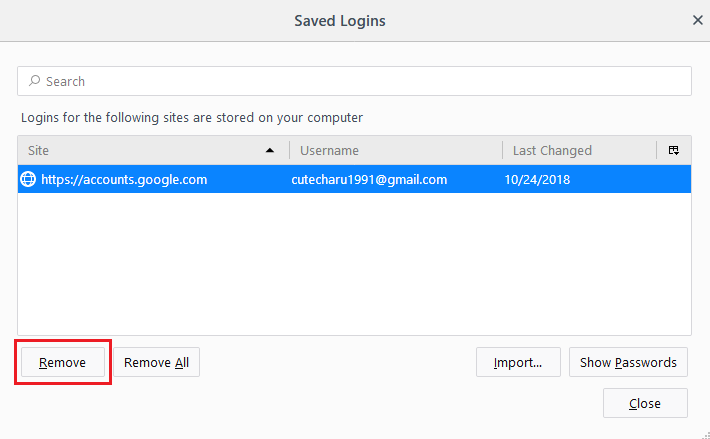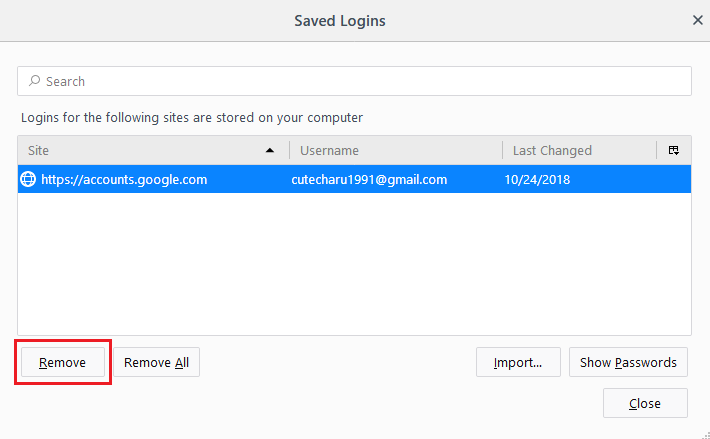 If you want to delete all the passwords you saved just click- Remove all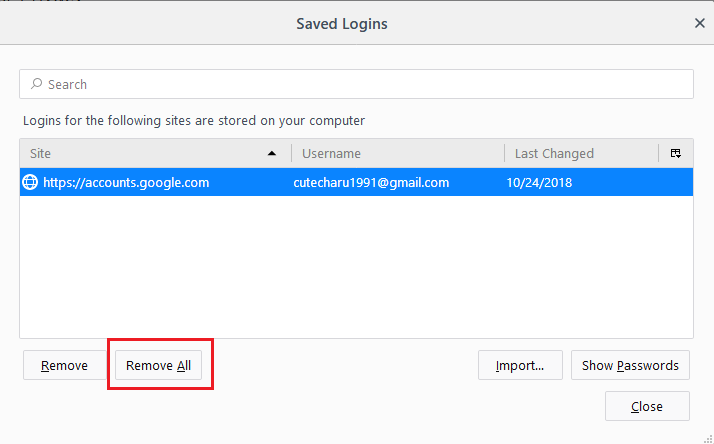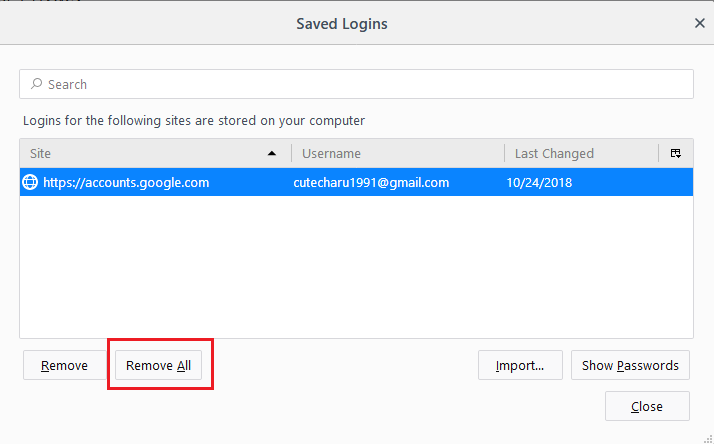 Hide Firefox saved password
If you want to hide all the passwords again just click on – Hide Passwords.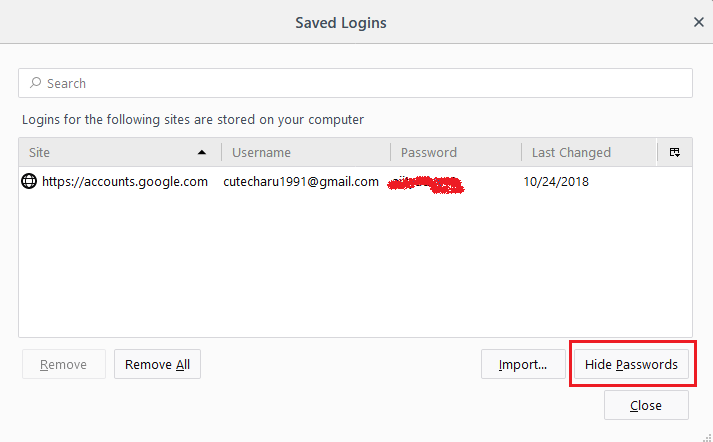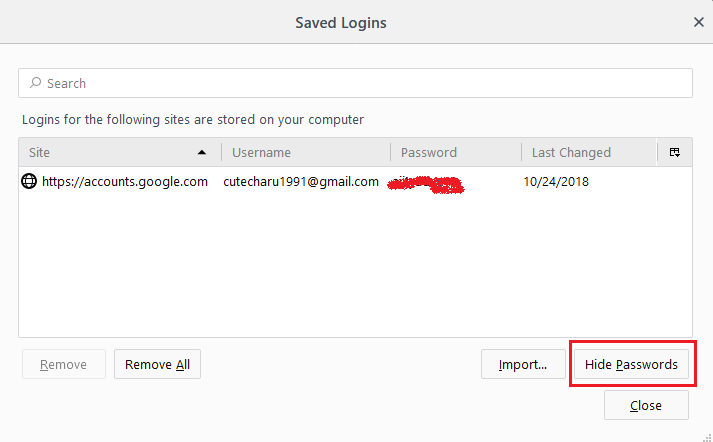 Use Master password
If you wish to use Firefox Password Manager in any case, it is recommended that you assign a master password for the saved usernames & passwords. The master password would be helpful in cases when someone is trying to enter your account they can view the passwords simply by opening Password Manager.
To include master password just follow the simple steps mentioned below:
Open the dialog box – Options
Now choose the check box – Use a master password


Now you will see the dialog box that opens on your screen – Change Master Password
Feed in the master password in the box enter new password edit and re-enter the password and hit Ok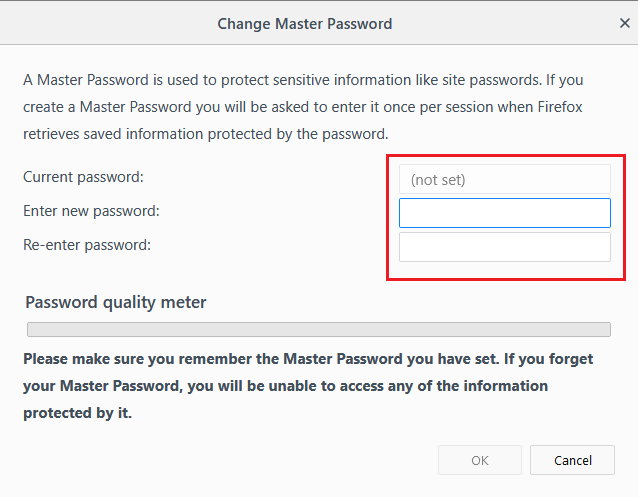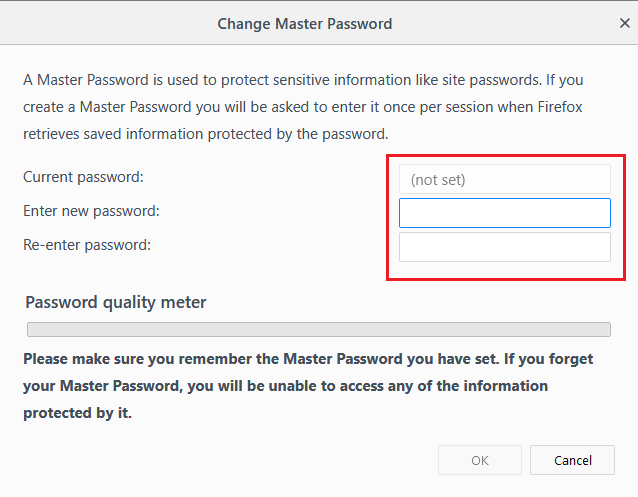 A dialog box saying master password has been successfully changed will be displayed on your screen.
These steps would help you enjoy a safe and secure browsing experience with your favourite Firefox browser.
Follow Us On: