How to Turn OFF Cortana: Cortana is an online assistant that exists in Windows 10 and it was incorporated to make your interaction with the operating system easier and flawless. Cortana basically helps you carry out basic operations with your voice. In case you don't want to use the voice features to get assistance from Cortana and also want to turn OFF Cortana popping up when search bar is clicked or maybe you have other privacy concerns then this article will help you know how to disable Cortana on Windows 10.
How to Disable Cortana
1. Turn OFF Cortana from checking the your PC's behavior
You can do it by changing the Cortana settings. Let us learn how to change the settings
Click on – Search box or you can also click the icon of Cortana which is located besides Start key.
Open – Cortana setting panel using gear icon

When you get the setting screen change the toggle settings from ON to OFF.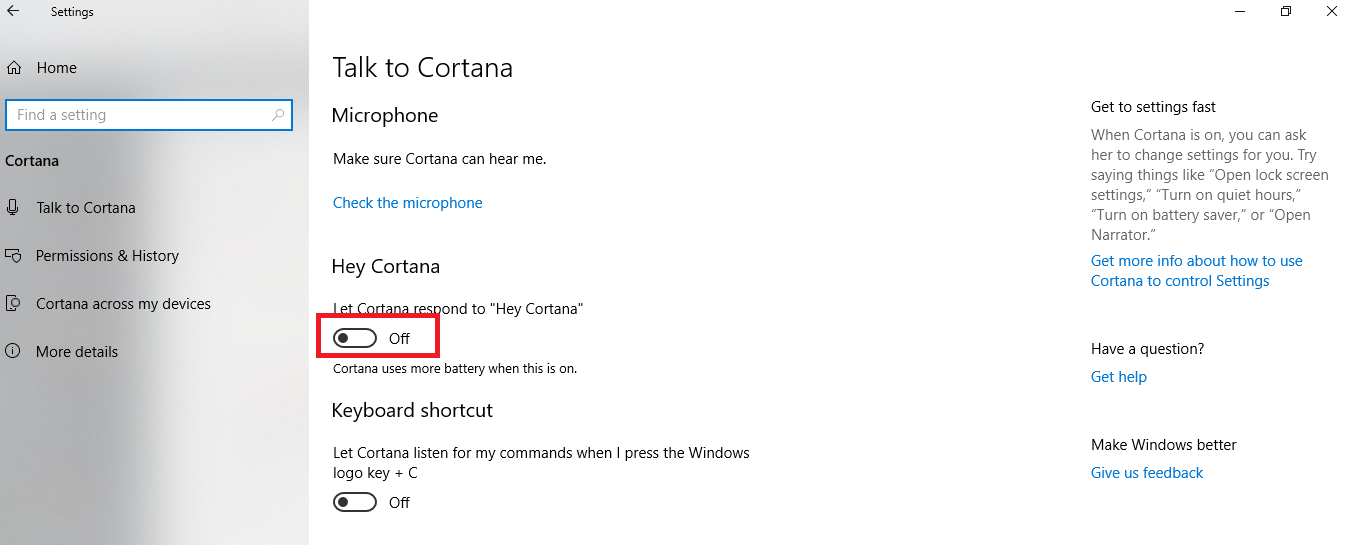 Now head to setting panels' top and then click on – Change what Cortana knows about me in the cloud.
Now Microsoft will extract a page called as Personal information from the internet in Start panel
While it loads, scroll down to the bottom and press- Clear
2. Disable Cortana windows 10 to gather talking and typing info
To assist you better, Cortana gathers your talking and typing information as well and if you are annoyed with this feature you can simply follow the steps given below
Press- Start key
Click – Settings gear icon
Select- Privacy

Search for Speech, & Typing in left panel
Click on – Stop getting to know me

Note: When you turn off this option you will automatically stop dictation on Windows 10. In case you use this particular service often then you can enable the option
Related Post: Disable firewall windows 10
Remove Cortana From Windows 10 completely
After you carry out the steps given above successfully, Cortana would stop responding to the voice you send over. Do not worry as Cortana is still functional at the background and you can enable it whenever required.
Still if you want to remove Cortana from windows 10 completely, you need to carry out some more steps. The steps can vary based on which version of Windows 10 you are using. It will vary slightly.
If you are using Windows 10 Pro then here is how you remove Cortana completely
Press- Start key and then search – Edit group policy and once found just open it
Browse to – Computer Configuration > Administrative Templates > Windows Components > Search.
Search for – Allow Cortana and just Double click it to open it
Click on – Disabled and press- OK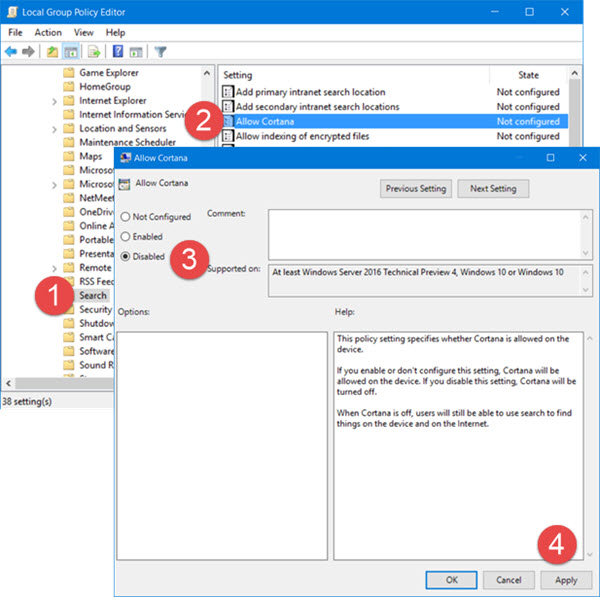 If you are using Windows 10 Home then the process can be little complicated as it includes process of editing Windows registry to disable Cortana. In case you are not confident with this method, you can take a back up by setting a specific restore point to be on the safer side.
Hope the methods given above help you turn off Cortana safely and easily. You can also get it back whenever you want.
Follow Us On: