How to Fix ERR_CONNECTION_RESET Issue
How to fix ERR_CONNECTION_RESET in Windows 10:  If you want to browse a website and get the error – "ERR_CONNECTION_RESET" means the connected is not being established correctly.
The error ERR_CONNECTION_RESET is also is accompanied with 101 code, is actually common in Chrome but this message actually doesn't imply whether the issue has occurred due to the network, server or the client.
5 Ways to Fix ERR_CONNECTION_RESET Error
1. Scan computer to check issues related to Malware and Viruses
Firstly, before you start trying different methods to solve the error here is what you should do: To check for ERR_CONNECTION_RESET in your Chrome, scanning helps make sure that the system is free of virus or malware.
In order to setting Chrome to the settings installed by default
Click the menu icon of Chrome located on upper right corner and select – Settings
On the page – Settings, scroll down and then click to reach – Show Advanced Settings
At the bottom of the page, click on – Restore settings to their original defaults
Lastly, click on – Reset settings
Restart- Chrome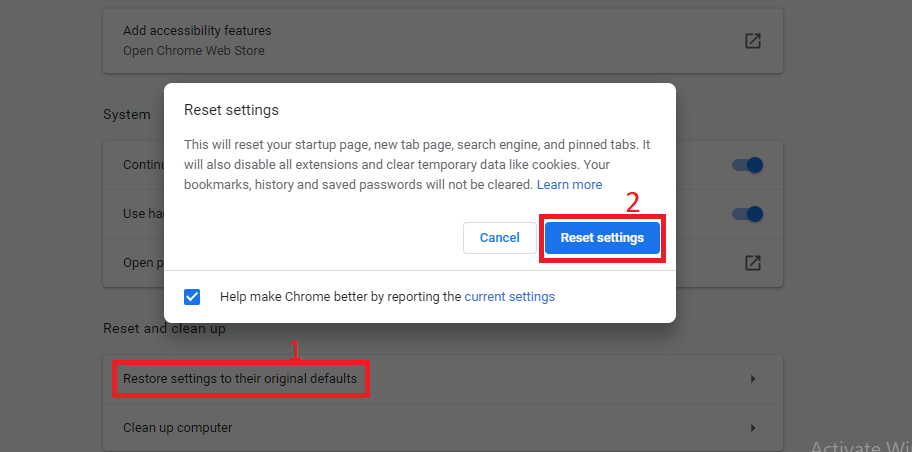 3. Restart – Winsock protocol
Open – Command Prompt as administrator for which you need to type cmd or command prompt in search box
Right click the result displayed- Command Prompt and Run as Administrator
In – Command Prompt you need to type the command given below and then hit- enter
netsh winsock reset catalog
Restart the PC

4. Modify DNS settings
Use the public DNS server of Google to fix the error "ERR CONNECTION RESET" in chrome
In order to modify DNS settings
Right click – Network icon (active one) in Taskbar and then click – Network Sharing center
Select – Active Network card and click – Change Adapter options
Right click on Active network adapter and choose – Properties
Choose – 'Internet Protocol Version 4(TCP/IPv4) and then click – Properties
Check the radio button that says –"Use the following DNS server addresses"
Type the DNS server address given below and click – OK
8.8.8.8
8.8.4.4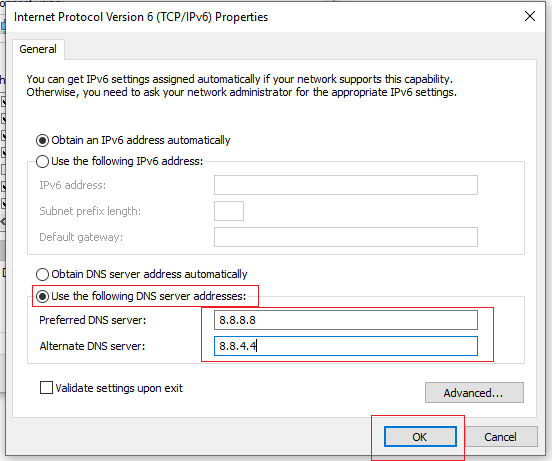 5. Connect to the Internet via VPN
In case your ISP(Internet service provider) has blocked your access to a site or sites you are using, then try to connect to the sites using a paid/free VPN or use Opera browser that has an in-built VPN feature.
Remember connecting the internet with the help of VPN service lets you hide the actual IP address on the device to seem you are actually online from a different country.
In order to activate VPN feature in your Opera browser
Open the menu for Opera and select- Settings
On the left click – Advanced and click – Features
Slide the ENABLE VPN button to turn in ON
Restart- Opera
In order to activate VPN in chrome browser
Download the VPN extension in chrome. I strongly suggest Zenmate chrome plugin.
Buy the proxies from proxy provider and upload the proxy list into extension
Now select one of them and enable the extension
You can also get in touch with your internet provider in case the above methods aren't beneficial for you. You can check with them if they have blocked the sites you are trying to access.  Ask them to give you access to those sites.
Follow Us On: