Get Help with File Explorer in Windows 10
Get Help with File Explorer in Windows 10: File Explorer is a file manager folder on Windows 10 providing easy access to the users for file management. The feature was formerly known as Windows Explorer when it first appeared in Windows 95. The File Explorer in Windows 10 is similar to the Windows Explorer of Windows 7.
It includes certain new features such as ribbon interface, built-in Microsoft One Drive, Quick Access area, Keyboard Shortcut, hard drive management, and much more. There are many ways to access the graphical user interface and manage files. Users can access File Explorer from PC, Taskbar, Cortana, Start Menu, Power User Task Menu, and Shortcut Key.
Get Help with File Explorer in Windows 10
Most Useful Features in Windows 10 File Explorer
Home Tab– The Home tab is placed on the top left corner that makes task management easier. It enables users to move or copy files from one folder to another. You can also delete, rename, or pin to quick access easily. In Windows 10, you can open Home Tab with a quick shortcut Windows+E.
View Tab– Users get quick access to the files and pictures by clicking "Preview Pane" from the View Tab. You can customize the view of the File Explorer in large icons, small and medium icons, tiles, lists, and content. You can select files and folders to show or hide content.
Share Tab– Adjacent to the Home Tab, there is a Share Tab allowing users to share files and folders with a single tap. Users can email or convert files into a zip format or burn to disc. You can also print or fax documents from the share tab.
One Drive– In Windows 8.1, Windows did not allow to sync files and folders in One Drive. But, Windows 10 enables users to not only save the files in one Drive but also sync the files at the same time.
Quick Access– In Windows 10, the Quick Access is a very helpful feature allowing users to visit recent files and folders. It has two sections Frequent Folders and Recent Files.
How to Enable/Disable Quick Access feature in File Explorer
The Quick Access feature in Windows 10 allows managing the whole computer with one tap. Many users feel comfortable using the Quick Access feature, whereas some find it difficult to switch to This PC. For effective use, you can customize the screen of File Explorer.
Follow these steps to enable/disable Quick Access
Open File Explorer and click on File > Change Folder and search options

Next, in the Folder Options window, under General tab, you can drop-down to see the two options Quick Access and This PC. The user can select either of the two options when you Open File Explorer to.

Click Apply > Ok.
Steps to Pin frequently used items to Quick Access Bar
If you have a large number of files on your PC, it is wise to use the Quick Access tab. Located on the left panel of the File Explorer, you get access to a bunch of files and folders saved on your PC. If some of the important files do not show, you can manually pin them to Quick Access.
Right-click the file/folder that you want to pin
From the menu, click on "Pin to Quick access". If you want to remove, perform right-click and choose "Unpin from Quick Access" from the context menu.

Get Help With File Explorer to Customize Settings
To change the File Explorer's settings, click the "View" tab and then "Options".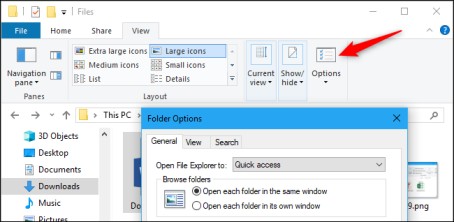 From here, you can customize the access to either Quick Access or This PC. You can even customize options in browsing folders such as Open each folder in the same window or Open each folder in its own window.
Steps to Use One Drive
One Drive is a built-in feature of Windows 10. With a Microsoft Account, all your files are synchronized into One Drive. If you are signed in to your Microsoft Account, add files and folders to synchronize on the Microsoft servers. There is a status feature of each file on One Drive. A blue icon indicates that the file has been stored on One Drive online whereas a green tick icon indicates that the file has been stored both on the system and One Drive.
To access One Drive's settings, click on the cloud-shaped One Drive notification icon on the left pane of your screen.

Users can customize features such as how much to upload, folders to be synchronized, and other settings by clicking on "More" and "Settings".
Go to One Drive settings and click on "AutoSave" and "Update Folders" to protect important folders such as Pictures and Documents automatically.
If you don't use One Drive, you can remove the icon from the File Explorer.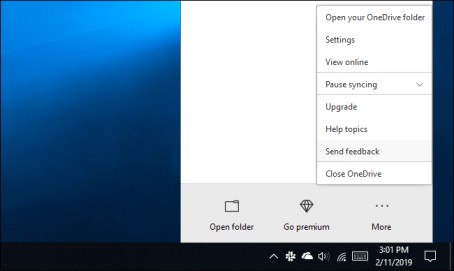 Access Network Drive With the Help of File Explorer
Users can find a Network Folder when you scroll down the sidebar of File Explorer. Folders, printers, and media servers are found in the Network Drive.

You can map the Network Drive from "This PC". Follow these steps to map the network drive–This PC > Computer Tab > Map Network Drive.

Get Help with File Explorer in Windows 10 to Restore files
The Home Tab in the File Explorer has a File History. It is a great tool for huge backups and restoring files automatically.
You have to first setup a file history by going to Settings > Update and Security > Backup. Enable the option "Automatically backup my files"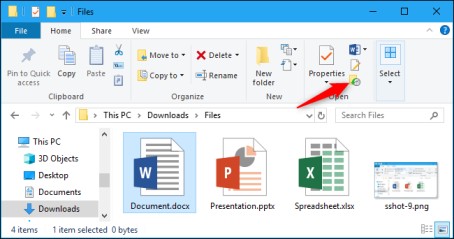 Now, you can backup any file by clicking on a particular file/folder, and then selecting Home tab and History button.
Commonly Used Keyboard Shortcuts in File Explorer
Use these commonly used shortcuts to access and perform tasks faster –
Windows+E – Open a File Explorer window. This works anywhere in Windows 10.
Ctrl+Shift+N – Create a new folder
Ctrl+Mousewheel Up or Down – Change the size of files and folder icons (zoom in or out.)
Ctrl+W – Close the current File Explorer window.
Ctrl+N – Open a new File Explorer window. This only works in File Explorer itself.
Backspace or Alt+Left arrow – View the previous folder (go back.)
Alt+Up arrow – View the folder the current folder is in.
Alt+Right arrow – View the next folder (go forward.)
F11 – Maximize the File Explorer window. Press F11 again to shrink the window. This works in web browsers, too.
Ctrl+L, Alt+D, or F4 – Focus the address (location) bar so you can quickly start typing a folder address.
Ctrl+F, Ctrl+E, or F3 – Focus the Search box so you can quickly start typing a search.
Follow Us On: