How to Backup Files Between Cloud Storage Directly
About Cloud Storage
Cloud storage is a method of data storage and organization in the cloud. With cloud storage, you can save data and files online instead of saving the files on the local hard drive, external hard drive or flash drive. The data in cloud are kept remotely and can be accessed through the public Internet or a dedicated private network connection.
Compared with traditional physical storage, cloud storage can provide higher accessibility and reliability and can help users get rid of the costs of purchasing, managing and maintaining the hardware. Therefore, cloud storage has become the most popular data storage method in recent years.
Why Backup Files between Cloud Storage?
As mentioned above, more and more people turn to cloud storage like Google Drive, Dropbox, OneDrive, etc. and store their precious data in cloud storage. Therefore, nowadays, the data in cloud has become as important as on-site assets, especially for enterprises. Meanwhile, cloud storage users also pay more attention to the security of cloud storage and wonder if the data is really safe in cloud storage.
Actually, though cloud storage is considered as a safer backup solution than traditional physical storage, the data in cloud are still facing the risk of losing due to human-caused issues like hacker intrusion, accidental deletion, employee error, etc. or technical errors caused by cloud storage providers. And some cloud storage doesn't keep older versions of files so chances are that users may lose their important data forever.
Hence, it is necessary for cloud storage users to backup files in cloud storage. Given that most people use multiple cloud storages at the same time, they are suggested to backup files between cloud storage. In this way, even if they lose important files in original cloud storage, they have a backup version in another one. What's more, backing files between cloud storage can save local storage and effort.
You might also like: How to Sync Folder With Google Drive
Backup Files between Cloud Storage Directly Using cBackupper
The traditional downloading and re-uploading method may be the best-known way to backup data between cloud storage. However, this way will consume much time and local storage. Actually, you can backup files between cloud storage with a professional cloud backup tool like cBackupper.
cBackupper is a web-based free cloud backup for Windows PCs, Macs or any other devices with a browser, which supports multiple cloud storage like Google Drive, Dropbox, and OneDrive. With its cloud to cloud backup feature, you can easily and quickly backup files between cloud storage. In addition, there are some useful backup features that can improve your backup efficiency:
Scheduled Backup: This feature allows you to set up a scheduled backup task in specific time/daily/weekly/monthly mode. After setting, your data will be backed up between cloud storage at a regular interval or special timing automatically.
File Filter: This feature supports you to exclude or contain the specific file types while backing up so that you don't need to waste time and storage space for unnecessary files.
Backup Notification: This feature is set to email you once the backup succeeds or fails. With this feature, you don't need to keep staring at the backup process.
Steps to Backup Files Between Cloud Storage Directly Using cBackupper
You can follow the steps below to backup files between cloud storage with cBackupper.
Go to the website of cBackupper, click "Sign up" at the upper right side, then type your email, password, and name to create an account and sign in.

On the "Clouds" page of cBackupper, click "Add Clouds" and select the clouds you want to add and click "Add". Then, you will be led to sign in your cloud storage account and authorize cBackupper.

Note: cBackupper is based on an authorization system called OAuth, which is a standard authorization framework that enables third-party applications to access multiple cloud accounts but not save or cache the data or files on the server. You can safely authorize cBackupper.
After adding. You can click the three-dot icon next to each cloud drives and select "Allocate Space" option to adjust the storage space for backup flexibly with three options as shown in the picture below.

To backup files, click "Create Task" button under the "Tasks" page.

Name your backup task in order to distinguish. Click "Add Source" button to add one cloud storage (you can choose the entire cloud storage or just certain files in this cloud storage here) as backup source. Click "Add Destination" to add another cloud storage as backup destination.

Note: When you choose the backup destination, remember to tick "Secondary Destination" option and choose a secondary backup destination. Once the space of your first backup destination is insufficient, files will be automatically backed up to the second one.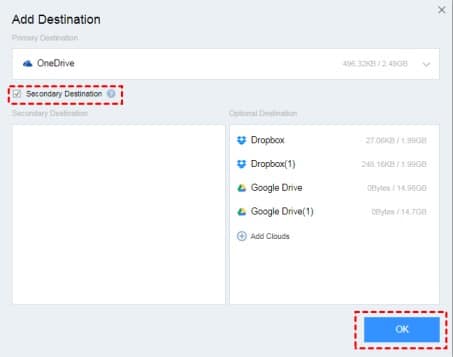 When all the settings have been completed, click "Start Backup" in the lower right corner to execute the backup task.

Note: Before backing up, you can use "File Filter" and "Email Notification" feature under "Settings". Also, you can set up scheduled backup task under "Scheduled".
Final Words
It is not hard to see that backing up files between cloud storage is a good way to protect your files. With cBackupper, backing up files between cloud storage can be an easy job for most users. Since it is a web-based services, you can begin to use it quickly. And it has clear interface and user-friendly design, so every user can figure it out easily. If you are storing files in the cloud storage that are supported by cBackupper, don't forget to protect them with cBackupper.
By the way, most of cloud storage allows you to backup files to it via official web version manually or sync files to it via special app automatically. But if you want to backup files to cloud regularly and automatically instead of uploading manually or syncing in real-time, you can use a reliable backup software like AOMEI Backupper to achieve it.
Follow Us On: