Turn OFF Notifications in Windows 10
How to turn OFF notifications in windows 10: Notifications are important aspects of Action Center in your Windows 10 OS. But, when you get a plenty of them its bothersome isn't? Especially, when you are using multiple apps and getting constant notifications.
Don't worry as you can turn off notifications in Windows 10. This article will help you learn to disable notifications in windows 10 for any of the apps installed plus control the notifications you view.
Steps to Turn Off notifications in Windows 10
Go to Settings menu in Windows which you can get by pressing Windows+I or can look for Settings in your Windows search bar and then click on respective result.
On the menu towards left hand click- Notifications & Actions. Now you will get a screen giving you the view to the settings that are associated with notifications and action center
Click on- System Icon
Choose – Notifications and actions located on left hand menu.
Search for the subheading – Notifications and there you will find different toggles for different notifications. The list of settings that you can toggle through on your screen are

Show notifications on the lock screen
Hide notifications when duplicating my screen
Get notifications from apps and other senders
Get tips, tricks, and suggestions as you use Windows
Show alarms, reminders, and incoming VoIP calls on the lock screen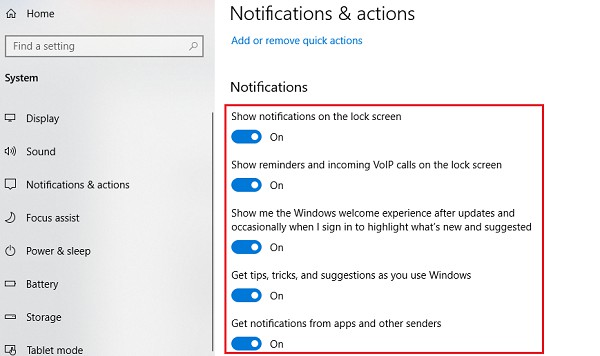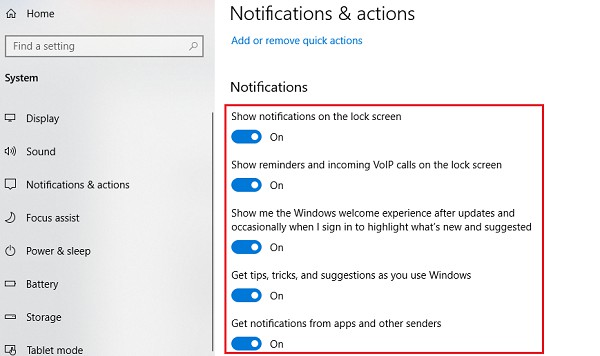 You can turn Of notifications in windows 10 as per your needs. In case you wish to keep any of them then ensure that all of them are toggled off. You actually need to install specific app you wish to see notifications for in case it's created already in your system. You can get notifications first prior to an app is shown on the list.
Disable notifications windows 10 temporarily
In case you wish to hide your notifications without completely disabling them then you can choose to mute them temporarily with the help of Focus assist.
Here is how you can do it
Go to – Actions Center. To do this pressing the icon- Notification on right hand side of your Windows Taskbar by pressing the combination of Windows key+A
Click Moon icon to activate Focus Assist. This will by mask all your notifications as a default setting between midnight hours and 6 am.
You can go ahead and customize it further by right clicking on moon icon and heading to Settings. This helps you change the time plus priority levels according to your preferences. It can be within a specific time or while enjoying a game.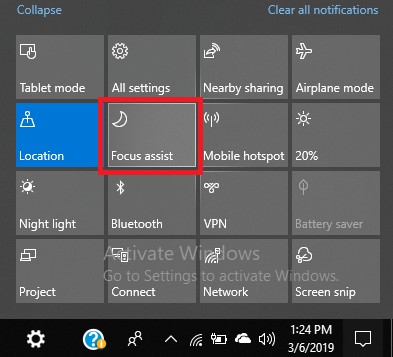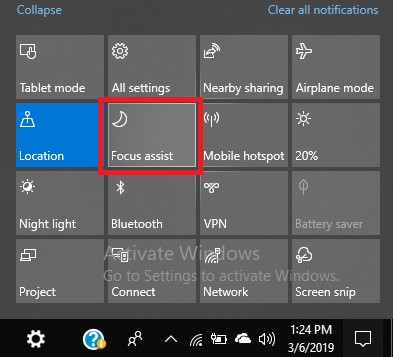 The methods given above will help you enable or disable notifications windows 10 as per your preferences so that you get notifications you want or simply stay away from notifications completely. This really helps as you don't get bothered with unwanted notifications. It is helpful when you are using multiple apps and each of them sends out unwanted notifications for every small activity that happens. Stay focused on your work by setting the notifications as per your preferences.
Follow Us On: