How to Fix Blue Screen Windows 10
How to Fix Blue Screen Windows 10: Well, getting a blue screen on Windows 10 ( Memory management error windows 10 ) is quite common, still it is frustrating. You get to see Blue screen of death which is also termed as STOP error which is a common death screen like others yellow, green and red screen. When you face BSOD on your PC you must be thinking about the way to get rid of this STOP error or memory management error. Well, there are a couple of ways that can help you resolve the blue screen on your Windows 10 issue easily. Here are some methods you can use to fix blue screen windows 10.
7 Ways to Fix Blue Screen Windows 10
1. Fix blue screen windows 10 using Virus check
The main reason of blue screen of death (BSOD) on your Windows 10 computer is data corruption. Apart from the normal reasons the malware can corrupt the data stored on your computer.
In case you encounter blue screen on your Windows 10 then antivirus software is the best way to do a full system scan. The built-in software on your Windows 10 that is Windows Defender can help you carry out a complete system scan and fix the blue screen issue.
2. Deactivate automatic restart to prevent memory management BSOD
In some cases, the default configuration in Windows 10 is set to automatic restart when the blue screen error takes place. Under such circumstances not enough time is available to view the error and note it down associated with BSOD. In order to begin the process of resolving Windows 10 STOP error issue you just need to your system to hold the error screen for a while. You can do it by following the given steps.
Right click on – This PC
Head to Properties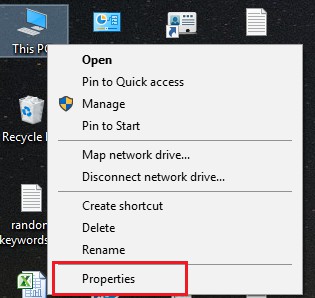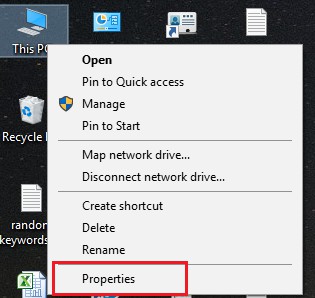 Click on – Advanced System Settings located on your left hand side


Click – Settings available underneath Start up and Recovery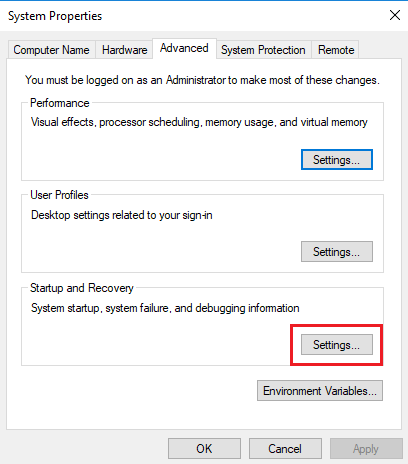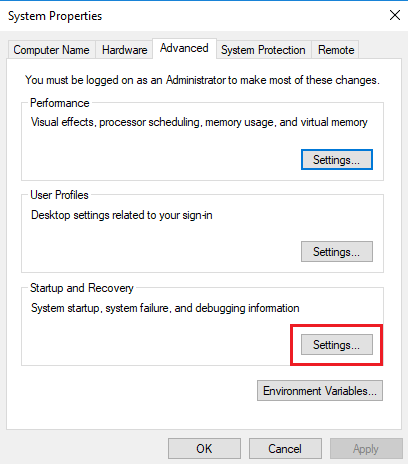 Uncheck the box – Automatically restart found under system failure.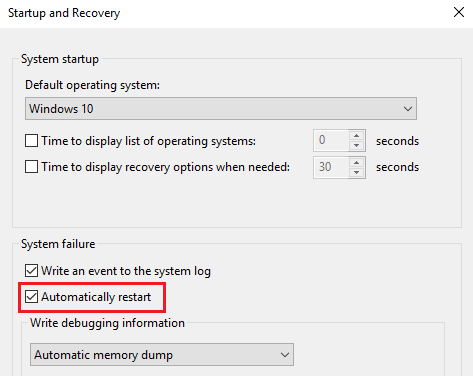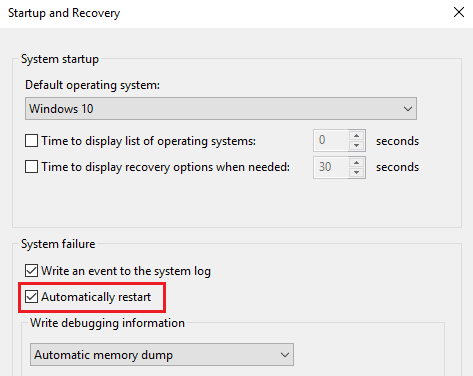 Now click – OK to save the settings and continue
3. How to fix blue screen using Run – SFC scanner
It is a Microsoft tool that helps detect different issues related to your system and running SFC scanner can also help you deal with memory management error.
In order to run SFC scanner, here are steps that you need to carry out.
Right click on – Start button
Run- Command Prompt (admin mode)
You will see a text box in black color that will pop up. There type – sfc/scannow and then hit enter
This will initiate the process of SFC scanner running on the system. Check if it digs out any errors. It will take a while so let it do its job. No worries even if the process ends up finding out nothing. Some users have experienced that the system runs smoother after running the SFC scanner.
4. Troubleshoot windows stop code windows 10 by Update graphics card drivers
It is one of the most common reasons of memory management error on your Windows 10 PC. The outdated graphic card drivers can result in this error. In case you the latest version is not installed on your system then make sure you update graphic driver (nvidia) and install the latest version. The drivers required solely depend on the graphic cards you are using.
5. Inspect Memory diagnostic tool for stopcode memory management windows 10
The memory management error is linked to the memory of your computer which can also be a problem related to RAM that is installed on your PC. You need not worry as memory diagnostic tool already present on you Windows 10 can help you find out the root cause of the issue.
Look for Windows Diagnostic tool on your PC and select it. Now click on – Restart Now. This will start setting up your RAM at its speed.
When your Windows 10 restarts it will indicate if there is any problem with the memory. In case there is some issue found with RAM or get it fixed if your PC is still under warranty.
6. Update your Windows to avoid windows stop code
Make sure you update your computer on a regular basis for the most recent security updates. It is very important to resolve the blue screen error in windows 10 and to prevent error from occurring. Windows 10 users do not have to put it much efforts as updates are installed automatically. Try windows 10 update assistant to update your windows 10.
Read also: How to fix error code 0x80004005 in windows 10
7. Update your hardware drivers/firmware to fix BSOD error
The blue screen error windows 10 can also occur due to faulty drivers that exist on your computer. It is always better to update/repair drivers so that you don't have to encounter the BSOD error.
Nowadays the universal drivers that come with Windows 10 manage almost all hardware components on its own. Still, there can be drivers that even Windows doesn't update automatically. In such cases you need to update them manually. You can download them via manufacturer's website.
Make sure you keep your computer clean to avoid dust. Make sure you delete unnecessary hardware like printers, gamepads etc from your computer. These unwanted hardware that you are not using can also lead to BSOD.
If you follow the simple key points mentioned above you will not face blue screen issues on your Windows 10. Keep your system clean.
Follow Us On: