How to Make Video Animation
How to Make Video Animation: Making videos is a fun activity because it can provide ideas through creativity in the form of animated content. There are many benefits that you can get with a fantastic video, whether it's for business, personal, or anything else.
Many large companies did utilize video content to market their business products, and it turns out that the video has a huge effect on the survival of the company itself.
Have you ever tried making videos using an application like Adobe Premiere Pro or Final Cut, but sometimes feel unsatisfied because the process is complicated and video is less appealing?
FlexClip Video Maker: A Video Animation Software
In this article, we will discuss an online application for making videos with the best features & quality in 2020. This platform is called FlexClip Video Maker, which is not only free but also very amazing quality guaranteed.
1. What is FlexClip Video Maker?
FlexClip was developed by PearlMountain Limited, which focused on developing graphics & multimedia software since 2006 (14 years ago). It has millions of users spread over more than 100 countries in the world.
2. What features FlexClip has
FlexClip is one of the best online video makers because of its various features. For you guys who are interested in this application, we have summarized some highlighted features of it.
Hundreds of Video Templates & Themes
There are hundreds of video templates with various themes to choose from for free, and surely you will like it. Here are a few types of templates that you can choose: Business video templates, promotions & sales, holidays & events, birthdays, weddings, YouTube, Facebook, Instagram, Facebook ads, Twitter ads, education training, housing, company, tutorial, restaurant & food, beauty, sports, art & culture, animals, family, travel, lifestyle, technology and automotive.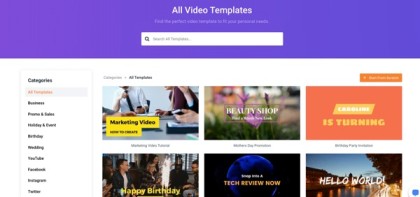 Animation Elements Available
When you are making a video, it's incomplete if you don't have one yet
the animation. On the FlexClip site, you will be presented with a variety of
animation that will make your videos more engaging. These include dynamic text animations, overlays, widgets, logos, and other animation elements.
Millions of Royalty-Free Media Choices
You do not need to bother looking for the media files somewhere else. This platform will be presented millions of stock photos, royalty-free videos, and music that support your video content.
Super Complete Video Tools
In FlexClip, you will be presented with various support tools that can be obtained for free, such as tools to convert videos (MP4, MOV, M4V, AVI, WMV, FLV, and MKV), video trimmers, video metadata viewer, video compressor, and screen recorder.
The main feature of FlexClip is a video editor that is very easy to use and not too heavy when run. With a super intuitive interface, you don't need advanced video editing skills because everything would be done with drag and drop tools.
Other great features that you can get and enjoy by using FlexClip includes:
Animated text
Record voice
Merge video
Change the video aspect ratio
Change video resolution
Photo to video
Split video
Zoom video
Add a logo or watermark
Related Post: How to edit video on Windows 10
3. Benefits of Making Videos Using FlexClip
There are several benefits that you get by using FlexClip when compared to other online video makers.
Free to use
Various templates that cover most fields and themes
Complete editing tools
No need for god skills in video editing
There are millions of images to choose from
Compress videos and change file formats
The video editing process is fast
The effects of animation are varied
The video result is of very high quality.
Get best edited videos to share social media like WhatsApp status, Instagram, Facebook, etc.
4. How to Make Video Animation Using FlexClip?
In order to make videos for YouTube, business, or personal purposes, firstly, please access the FlexClip official page: https://www.flexclip.com/.
Click the "Make A Free Video" button and then sign up for free. You can connect with your Facebook or Google account.
After that, select Start From Scratch to create a new blank project or choose a template to have a quick start.
Next, on the editing canvas, you can add text or other files by dragging. To edit the text, just double click on it and enter your own message. You can change the text font, color, size, placement, etc. to your liking.
To upload your files to use, click the plus (+) button at the Storyboard. And then choose the files you want to upload. You have options to adjust the filters, video speed, and apply transitions you like.
When everything is done, simply click the Export Video button to download it to your computer.
Conclusion
FlexClip is an easy-to-use online application that everyone can use to create videos without difficulty.
There is no need to download and install any software of extension; everything can be done quickly in your browser. As long as you have an internet connection, you can manipulate it and create various videos to meet your purposes, whether it is for social media posts, blog posts, company products, video lessons, or a wedding invitation.
Follow Us On: