How to Fix Unknown Hard Error in Windows 10
How to Fix Unknown Hard Error: An "Unknown Hard Error" disrupts a smooth performance of your operating system. Such an error can occur while playing games, opening and closing of applications, installing a heavy application, or working simultaneously on programs. Many users have reported their disappointment over such unknown hard error when the Windows update is in process or the installation of intensive applications.
Generally, if such an error occurs, users experience these consequences –
Either your screen goes black or blue. It makes the screen non-functional. Such an error is also known as the Blue Screen of Death (BSOD).
Commonly, system crashes and your taskbar freezes leaving users helpless.
The icons on the desktop such as the shortcut icons and system default icons of My Computer, Recycle Bin and Networks disappear.
Unknown Hard Error Windows 10
How to Identify Unknown Hard Error
In Windows 8 and 10, many users have experienced that the error occurs with the process name along with it. For example, the message "Unknown Hard Error" includes the name of the process causing problems, sihost.exe, or explorer.exe.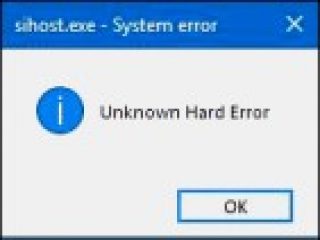 If the process name appears, try to manually locate and terminate the process from the Taskbar in two easy steps.
Right-click on the taskbar and open Task Manager.
Search under "Processes" tab to select the faulty one and click on End task.
It is important to identify the reason behind the error to avoid future problems and operating issues. It's quite difficult to locate the real cause; the reasons below might help you.
Reasons for "Unknown Hard Error" on Windows 10, 8, 7
Several reasons can be associated with the "Unknown Hard Error" such as:
Corrupted system files
Virus intrusions or malware attack on the system
Existence of corrupt or faulty system drivers
Bad sections on the hard drive
How to fix Unknown Hard Error on Windows 10
It is advised that users should switch to Safe Mode or log-in via the Administrative Account on Windows 10 or 8 before attempting to fix "Unknown Hard Error".
1. Initiate a Clean Boot Process to Fix Unknown Hard Error
If a user has installed a third party application and experiencing "Unknown Hard Error" issues, a clean boot process can help you in diagnosing the operational problems.
Follow these steps to run a clean boot process –
Press Win+R, a dialog box appears and Run command is launched.
Type "msconfig" and press Enter.
A System Configuration dialog box appears. Now, click on the Services
Tick the checkbox titled "Hide all Microsoft services".

Click on "Disable All" and then Ok.
Right-Click on the Taskbar to choose Task Manager.
Go to Startup tab and select low and medium startup impact programs.

Click Disable and reboot your system.
2. Do an SFC scan and Avoid Unknown Hard Error
A corrupt system may lead to bugs and errors. Run a scanf or scannow on Command Prompt window that scans all the drivers to identify the corrupt files. The scanf command also fixes the issues in the files.
Follow the steps to run SFC scan –
On the Windows search bar, type "Command Prompt" in the search box and press Enter.
Do a right-click on link of Command Prompt to select "Run as Administrator".
Type sfc/scannow. Next, press Enter to start the scanning process.
When the scanning gets completed, It shows the list of corrupt files. If it doesn't identify any corrupt files, it shows this message – "Windows Resource Protection did not find any integrity violations."

3. Run CHDSK to fix damaged areas on hard drive
Once again type "Command Prompt" in the Windows search box and press Enter.
Right-click on Command Prompt and select "Run as administrator"
Type "chdsk/f/r" and press Enter.
The steps will repair any bad areas of the hard drive.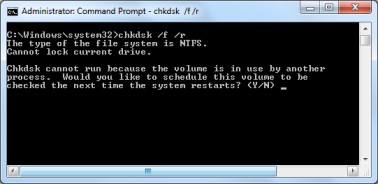 4. Search for any recent software changes
If you have recently downloaded any software and experiencing "Unknown Hard Error", you should try re-installing the software. If it continues to display errors, uninstall the software from the Control Panel.
5. Roll back the Update to Fix Unknown Hard Error Windows 10
During Windows automatic update, many users experience the system warning explorer.exe Unknown Hard Error. The best solution is to uninstall the update to get rid of this error.
Press Windows+I to open Windows Settings.
Select Update & Security to open the history of updates.
Click on Uninstall updates. The step shows a list of updates under Control Panel. Choose the update you wish to uninstall.

If this doesn't work, you may go back to the restore point to avoid full reset. Reboot the system by creating a restore point.
6. Repair Drivers
Another method is trying to repair the drivers, if needed.
In the Windows search bar, type "Device Manager".
Find the name of your device by expanding categories and do a right-click to select the option "Update Driver".
Select the option "Search automatically for updated driver software".
If the driver isn't updated automatically, then you can visit the manufacturer's website and update the latest drivers manually.
Follow Us On: