Clear Cache Internet Explorer
How to Clear Cache Internet Explorer: You may have noticed the temporary files stored in Internet explorer which are also known as cache. They are basically the copies of videos, text, images and some other data from the websites that you visited recently and that got stored on the hard drive of your computer. This article will tell you how to clear cache internet explorer?
These files are termed as temporary files but they actually stay in your PC till the cache is full, the files expire or they are removed manually. It is important to delete temporary files stored on internet from troubleshooting point of view because when the web page starts loading you are rest assured that the site will work for others too.
It is completely safe to clear cache internet explorer as the process won't delete the passwords, cookies etc. You can have a look at some simple steps that would help you clear cache stored on Internet explorer. It just takes a minute.
Remember that the process of clearing IE cache files is not similar to deleting Windows temporary files. That specific process is ideal to delete data that is left behind by certain programs not related to IE for example 3rd party installers.
Steps to Clear Cache Internet Explorer
Open – Internet Explorer 11
You will find a gear icon to browser's right hand side, click on that icon which is also known as Tool icon and then Safety and at last – Delete history.
You can also use the keyboard shortcut – Ctrl-shift-del. To accomplish the task simply hold down Ctrl as well as Shift keys together and then hit the key – Del
In case the Menu bar is activated you can just click – Tools and after that simply click- Delete browsing history.
When the following window appears- Delete browsing history uncheck the available options excluding one that says – Temporary Internet files and website files.
Click the button – Delete which is present right at the bottom of your window
The window – Delete browsing history will go off and you will see a mouse icon going busy for a couple of seconds.
The moment the cursor come back to normal or you see the following message at the bottom of your screen – finished deleting means all the cache files on the internet are deleted.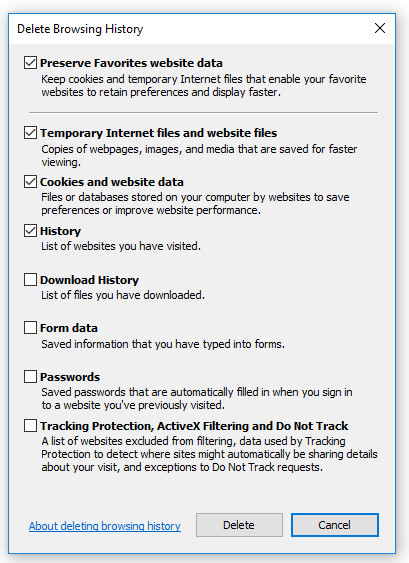 Other useful article: How to make windows 10 look like windows 7
Some Useful Tips to Clear Cache
For older version of internet explorer like IE9, IE10, IE8you can use the same procedures to clear the cache but if possible try to use the latest IE version.
Make sure you go through the How-Tos for Internet Browser to learn more on Internet Explorer plus other browsers like Safari, Chrome and Firefox.
You can use Internet options to alter the settings of temporary internet files on IE.
You can also use certain programs to clear the cache for you like CCleaner. For this just ensure that the option- Temporary Internet files is chosen under the location – Internet Explorer in Cleaner section.
All the steps and tips mentioned above to clear cache IE will certainly be useful.
Follow Us On: